– to newly-constructed Lusignan holding facility
The acting Director of Prisons, Mr Gladwin Samuels, on Monday gave the media an update on the new accommodation arrangements for prisoners relocated from the Georgetown Prisons to the Lusignan Prisons following events that transpired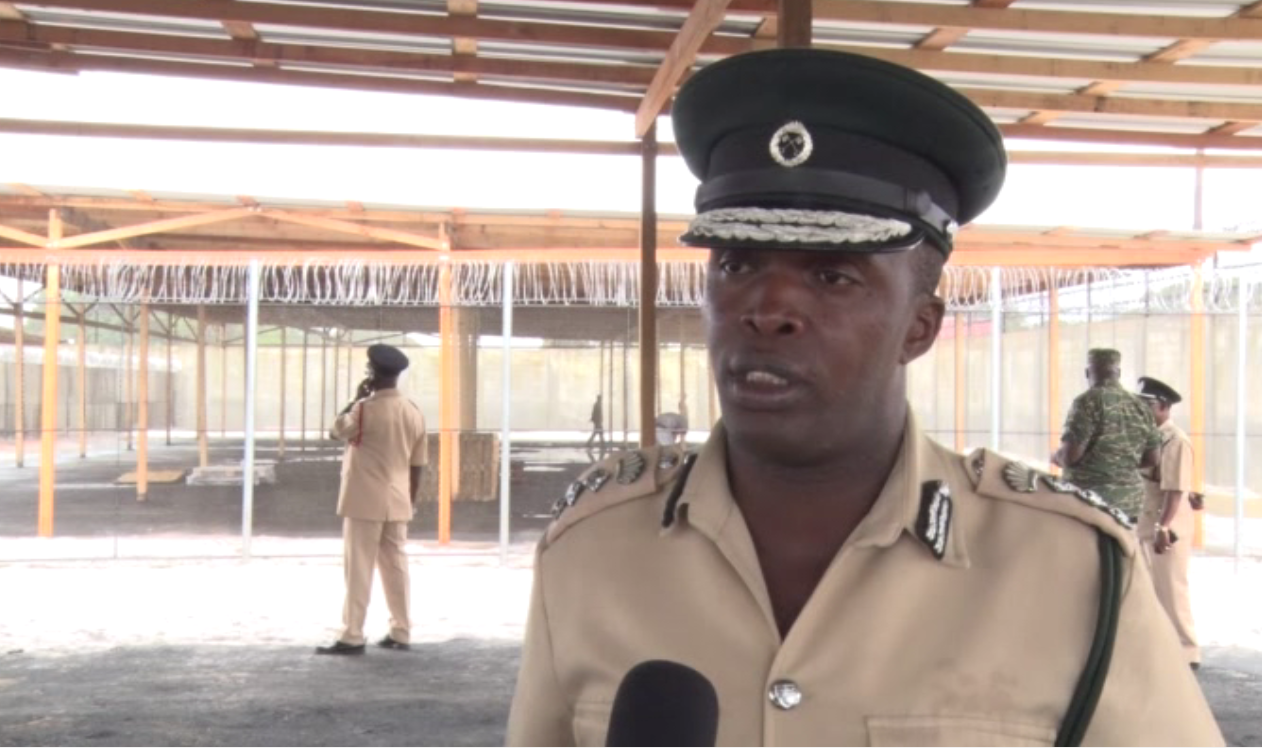 at the Georgetown Prisons on July 9 last. He was speaking specifically in relation to the availability of the newly tarmacked holding area at the Lusignan Prison Complex. This new facility will ease the present situation of congestion at that penitentiary, brought on after hundreds of inmates from the Camp Street Prison had been relocated there following a fire — deliberately set on July 9 – that had reduced the Georgetown facility to rubble. Those transferees were forced to live under atrocious conditions at the Lusignan penitentiary, and their irate and frustrated relatives had decried the conditions under which they were being held at the Lusignan penitentiary. On Monday, Samuels announced measures which could alleviate the untenable conditions obtaining at the Lusignan Prisons. He explained that most of the prisoners evacuated from Camp Street are still being housed at Lusignan, and that the holding area would house 450 prisoners.
"After many days of hard work, we have finally come to a stage where this new holding area can be occupied. Our intention today (Monday) is to sanitise those prisoners in the walled area, as described by the minister, who will be transferred to this area (tarmac)," Samuels detailed.
He explained that the Guyana Prison Service would seek alternative arrangements to house the remaining prisoners; and assured that the tarmacked area, which has three sheds, will offer more security and improved sleeping conditions. "When they're relocated here, the sleeping arrangements will be much enhanced from what they have right now. We purchased mattresses and other sleeping materials during the period, (and those) will be issued to them," he highlighted. He added that the area would allow for a "more controlled environment", in that it would segregate prisoners and facilitate a smooth process for court appearances, which were disrupted after the inferno.
He also said the Prison Service recognises the concerns of relatives who want to see their incarcerated loved ones, but disclosed that family visits would recommence at a later date.
Family members were incensed principally because their relatives were staying in a pasture, an area meant for animals. One day after the fire, work commenced on the holding area, but several angry prisoners, upset at staying in unfavourable conditions in the walled area, had attempted to torch sections of the Lusignan facility.
On Monday also, reports surfaced that teenage inmate Allan Basdeo had been stabbed by two fellow prisoners at Lusignan. Samuels has, however, indicated that the new holding sections would be able to better cater to the needs of prisoners classified as vulnerable.
"It is our hope that this [facility] will provide a better environment, especially for those prisoners who are deemed to be a bit more vulnerable than those hardcore offenders who have, in various ways, taken advantage of those prisoners," Samuels pointed out. He, however, clarified that despite the use of the words "taken advantage of", there were no reports of any sexual assault having been committed in the walled area, which was cramped with hundreds of inmates. Following the transfer of prisoners from Georgetown to Lusignan, the conditions at Lusignan were condemned by both inmates and their family members, who lamented that prisoners had been sleeping under tents, and were exposed to the elements. In March 2016, a fire at the Camp Street Prisons had claimed the lives of 17 inmates. (Shemuel Fanfair)