In their first outing since onset of the coronavirus pandemic, the Lady Jags came off a bit rusty, losing 6-1 to Puerto Rico in a friendly on Wednesday night.
The Lady Jags are in Puerto Rico for an encampment exercise which consisted of two friendlies, the next of which will come on Saturday night.
In competing against the hosts at the Juan Ramón Loubriel Stadium, the Puerto Rican Women's National Team made light work of the Lady Jags. The first goal came of the boots of Jojo Cotto in the 14th. Karina Socarras Villalonga made it a 3-0 affair by halftime with a brace in the 28th and 35th minutes.
In the second segment, Madison Cox carried the score to 4-0 with a strike in the 47th. However, Guyana's Annalisa Vincent looked to spur a comeback with a goal of her own in the 59th, but it was a little too late.
A goal each from Karish Rivera and Nickolette Driesse took Puerto Rico's tally to six before the final whistle.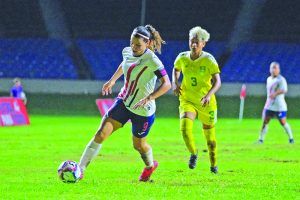 The next friendly is scheduled for the José Antonio Figueroa Freyre Central American Stadium in Mayagüez on Saturday, October 23.
The Lady Jags' time in Puerto Rico was supposed to be followed by their participation in the CONCACAF Women's Qualifiers, beginning in November. However, the tournament has since been postponed to the 2022 Women's window in February.
The local ladies' first game in that tournament will now be contested on February 16, against the ladies of Dominica. Guyana has been drawn in Group F, with Trinidad and Tobago, Nicaragua, Dominica and Turks and Caicos Islands.
After group stage play, wherein each nation would play two matches at home and two matches away, the top finisher in each of the groups would advance to the CONCACAF Women's Championship, joining the top two ranked Concacaf nations (USA and Canada), who have received a bye straight to the Women's Championships, which will be played in July 2022. The Women's Championships is the gateway tournament to the FIFA 2023 Women's World Cup.