Officials of Region 10 (Upper Demerara-Berbice) joined the rest of the country in observing Remembrance Day 2020 on Sunday.
A simple yet significant ceremony was hosted at the Mackenzie Cenotaph where officials including Regional Chairman Deron Adams and Linden Mayor Waneka Arrindell paid tribute to the fallen heroic soldiers who died in World Wars 1 and 2.
Speaking at the event, Regional Chairman Deron Adams said he was honoured to join with others to celebrate and commemorate the lives laid down so many years ago to preserve freedom, democracy, dignity and social justice for all
"Over 700 soldiers from the then British Guiana travelled to the war front to place their lives on the line to guarantee the qualities of life we all enjoy to this day. It is this selfless sacrifice that we commemorate today, and which commands my respect as we mark this solemn occasion. Originally called Armistice Day, to commemorate the armistice agreement that ended the First World War on the eleventh hour of the eleventh day of the eleventh month – Monday, November 11, 1918," he stated.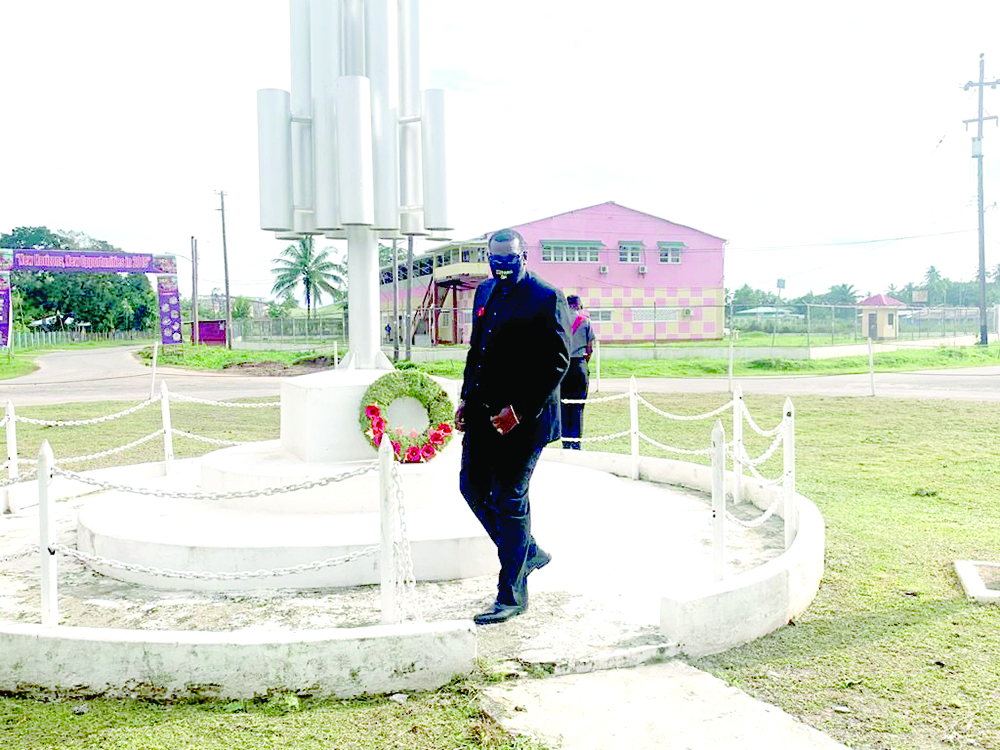 He noted that in Guyana, the event is held on a Sunday closest to the date for persons to recognise and honour those who would have perished in the wars.
"We stand on the shoulders of great men and women who put themselves in harm's way to protect generations to come, and for this, we say a heartfelt thank you as we commit to ensuring that their memories live on forever," Adams added.