Republic Bank Limited (RBL) has donated the sum of .066 million to the Ministry of Education's (MoE's) steel pan training programme known as the 'Republic Bank's Right Start Pan-Minors Music Literacy Programme'.
Receiving the donation on behalf of the Education Ministry, at a handing over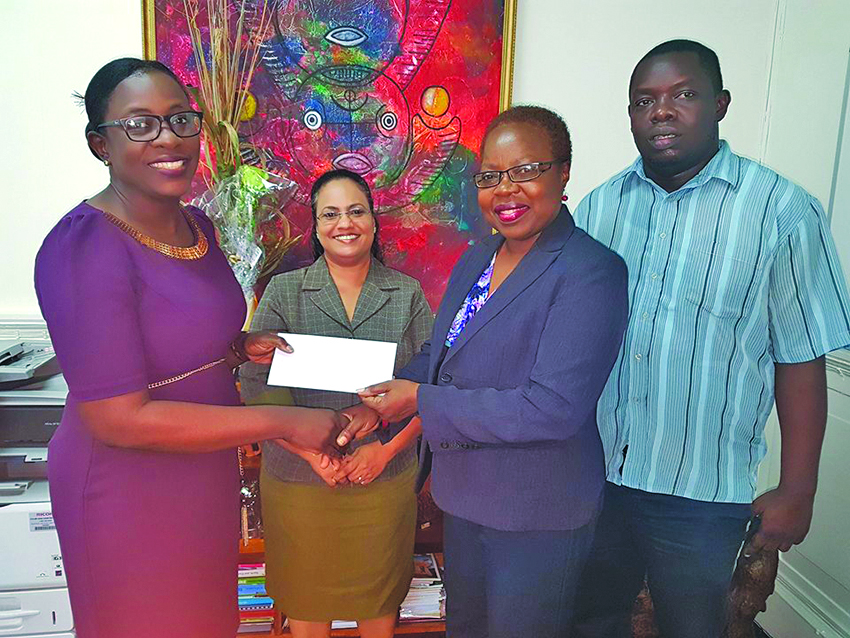 ceremony hosted on Friday in the Boardroom of the Education Ministry's Department of Culture Youth and Sport, subject minister Nicolette Henry declared that the donation comes as much-needed support to the MoE and its mission.
"It is great that our children get opportunities because corporate citizens like Republic Bank offer tangible support, such as finances which would help our children to move forward positively," Minister Henry posited.
She said she is looking forward to continuous partnership between Republic Bank and the Government of Guyana.
Republic Bank's Information Technology Manager Yonette Greaves made the presentation and explained to the gathering the objectives of RBL's contribution to Steel Pan development in Guyana. "This donation is part of our 'Power to make a Difference' programme at the bank," she relayed.
A similar donation will be made by Republic Bank to Education authorities in Bartica, Ms Greaves explained.
Director of the National School of Music, Andrew Tyndall, expressed gratitude to RBL and pointed out the importance of the Steel Pan Programme.
The Education Ministry's Steel Pan Training Programme was launched in 2010 as an initiative to develop the steel pan art form in Guyana while ensuring that the art form is given life in a period when it had become dormant. More than 900 students have to date graduated from the programme.
Republic Bank's Right Start Pan-Minors Music Literacy Programme in Georgetown is set for July 10- 28, while the Bartica leg will follow from September 4-15.