Sharing Government's plans to ensure transparency and accountability in the oil sector, President Ali said his Administration has adopted a three-prong approach to cover all bases, thereby enabling the funds to be properly managed.
President Irfaan Ali was facilitated in a discourse with the Woodrow Wilson Center for Strategic and International Studies (CSIS) on Tuesday, as he continues high-level talks with US officials in Washington, DC.
"Ensuring transparency and accountability requires the population to have access to information. There can be no secrets. The population must be aware of what is coming. The second issue is transparency. In addressing transparency, one of the key aspects in the oil and gas sector is the reach and level of involvement of politicians in Government. Thirdly, a clear approach to how revenues are utilised for development and transformation of the country," the Head of State divulged.
He pointed to legislation, such as the Natural Resource Fund Act 2021, which speaks to the publication in the Official Gazette of all petroleum revenues paid into the Natural Resource Fund.
In addressing management, he mentioned the Board of Directors which were appointed in keeping with this legislation, that is responsible for reviewing and approving the policies of the fund and separating the management of the fund from the subject Minister.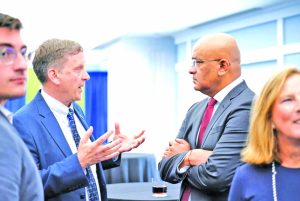 "We removed the political hand, that is a major international issue in the process. This is the greatest scrutiny and every cent spent from the revenue would go through a parliamentary process because it has to come through the national budget. That is the greatest level of scrutiny."
He added, "The national budget is subjected to parliamentary debate and approval. So, the resources that is coming, the resources that is coming to be invested into the country and the transformation of the country passes through that parliamentary process, the approval system, because the budget has to be approved. So, the parliamentary oversight is there. All of these things we have put in place."
This month, Government withdrew another US$200 million, equivalent to GY$41.7 billion, from the Natural Resource Fund in accordance with the Natural Resource Fund (NRF) Act.
Finance Minister Dr Ashni Singh had announced that, pursuant to Section 16 of the NRF Act 2021, a further US$200 million, equivalent to GY$41.6 billion, has been transferred from the Natural Resource Fund to the Consolidated Fund to finance national development priorities.
Looking at overall policies, President Ali opined that this process cannot be done outside of a global environment.
"If you look at one of the major challenges in the world today, you would see many countries are having difficulties with cost of living. It started with the pandemic. We're not even out of the pandemic and then we had the supply chain crisis. That brought the manufacturing crisis…Then the war in Ukraine. This combined together creates policy formulating headache, especially for developing countries," he shared.
Local content
The Guyanese leader also touched on the Local Content Policy, stating that it was crafted in a way which does not "ignore reality". In areas which Guyana lacks expertise, the framework recognises that.
"In the development of the local [content policy], we understand it has to be a graduated process. There are certain areas that are considered the carved-out areas, where we believe we have enough local capacity to effectively and efficiently provide those services. There are certain areas which we lack the capacity and we know that we have to have that capability, technology coming in from outside."
Businesses involved in this process can then benefit from the transfer of knowledge, providing gradual capacity building.
Dr Ali further highlighted, "The local content is also built in a way that encourages investors to look at Guyana as an operational zone and not just a transactional zone…What we have done is that we have created an environment in which those companies would see it viable to do the manufacturing and value-added in Guyana, creating a whole new demand structure."
During these bilateral talks to strengthen US-Guyana relations, the President is joined by Vice President Bharrat Jagdeo, Foreign Affairs and International Cooperation Minister Hugh Todd and Foreign Secretary Robert Persaud. (G12)