By Jemima Holmes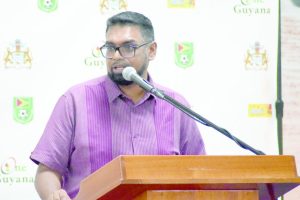 In other sectors, for instance healthcare, education, or even agriculture, seeing a $30M price tag on a project wouldn't surprise many people. However, when such a figure is attached to Sport, it is an occurrence that would turn heads.
$30M is the approximate figure that has been placed on the inaugural One Guyana President's Cup football tournament; a significant amount that has never been attached to a tournament locally, or at the very least, not in recent history.
Taking into account that 28 players and staff from ten teams representing Guyana's administrative regions will be given $80,000 just to play, while their coach and captain are remunerated with $100,000, that is already ground-breaking.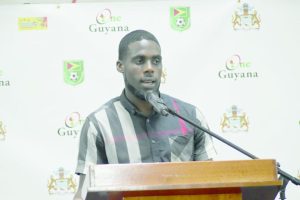 But it does not end there.
For every victory a team clinches in the group stage (4 games per team), they will be rewarded with Gy$200,000 (US$1000) and the four teams that reach the semifinal stage would receive Gy$400,000 (US$2000). This is, of course, in addition to the $2M grand prize and the $1M prize for the second-place finishers.
Surely, it is an investment that would fuel otherwise underpaid players to put extra effort into their trade.
Cosigning the magnitude of Government's investment into this tournament was GFF President Wayne Forde.
"The incentives that have been offered by the Government of Guyana through His Excellency (are) unprecedented in every measure for our game," Forde told those gathered at the tournament's launch on Wednesday evening at State House.
He boldly declared, "Accumulatively, the tournament will have an incentive budget exceeding Gy$30M."
Although Forde was quick to clarify that the price tag is not the sole factor of importance, he was appreciative of the Government's investment.
"It is important to mention that our players are not only inspired and motivated by finances. Every young man that you see out here this evening is driven by a desire to represent the Golden Arrowhead, and we've always stated consistently that the Government of Guyana is the most strategic partner for football development, and I'm happy to be in the position that I am today, to see that vision and expectation being realised through the vision and the patronage of our President," Forde explained.
Also taking notice of the capital that has been injected into the tournament are the players, on whose behalf national player Jeremy Garrett spoke.
"On behalf of the players, I just want to say a special thank you to the Government of Guyana for the investment, and showing us how important the footballers are; more so, the development of football across all regions," the footballer remarked.
Alluding to a piece of advice that was once given by Golden Jaguars Coach Jamaal Shabazz, Garrett explained the likely result of the investment and interest that has been placed on Guyana's footballers this year-end season.
Garrett further stated, "From my heart, I must mention that we're seeing the sacrifices that the Government is making for us; and as players, we are thankful, and as players, we will continue to make the sacrifice for this country, to do our best."
Without a doubt, the man without whose patronage the tournament would not be possible has taken note of the investment his charges are currently making to see the tournament through.
As such, President Dr. Irfaan Ali shared, 'A lot of investment… It's not only the cash investment by game, it's investment in uniform, investment in logistics, transportation. It's not easy, it's a very, very expensive endeavour to put this tournament together."
And even after the President's Cup is completed on January 1, 2023, the work will continue. "At the end of this tournament, I've committed to the Guyana Football Federation that we will jointly work in," The Head of State added.
However, as has become evident from President Ali's remarks, the investment in football will not end there. In fact, one can expect another significant investment when the female version of the tournament is organized.
"This is not only an endeavour that we're looking at from the male perspective, because our female Jaguars are incredible, and perhaps if you speak to footballers, they will tell you that they have a better chance of making the World Cup. That is just what they say," President Ali disclosed on Wednesday evening.
He added, "They're an incredible unit, and they've done us proud, and we intend to invest in their development too. We intend to invest in bringing them in an Easter tournament in a similar setting, so that they can also have this opportunity."
The national leg of the One Guyana President's Cup will commence on Sunday, December 11, at the Leonora Track and Field Center at 18:30hrs.