BCB/Shimron Hetmyer Intermediate 40 Overs cricket…
By Brandon Corlette
Rose Hall Town got the better of No 72 All Stars in the BCB/Shimron Hetmyer Intermediate 40 Overs cricket tournament when they registered a comfortable 87-run victory on Sunday last at the Port Mourant Community Centre Ground.
Watched by a vocal gathering, the Rose Hall Town Bakewell Team scored 189-8 in 40 overs, batting first. Former Berbice U-19 player Keith Simpson played a gem of an innings, stroking an even 50.
In reply, Kevlon Anderson's masterpiece of 4-24 with the ball restricted the No 72 All Stars to 103 all out.
Earlier, on a typical Port Mourant track that saw a few balls coming on to the bat, Rose Hall Town lost Kevin Sinclair for two when he was out bowled with the score on 9-1. Arguably the best youth batsman in Guyana, Kevlon Anderson partnered Junior Sinclair, and the dynamic duo took the score to 32-2 within five overs.
Anderson was eventually out stumped for 10, but the left-handed Surrendra Kissonlall consolidated the innings at number four. When Junior Sinclair fell for a shot-filled 25, including two fours, in came the flamboyant Keith Simpson, who scored fluently in his breezy half-century.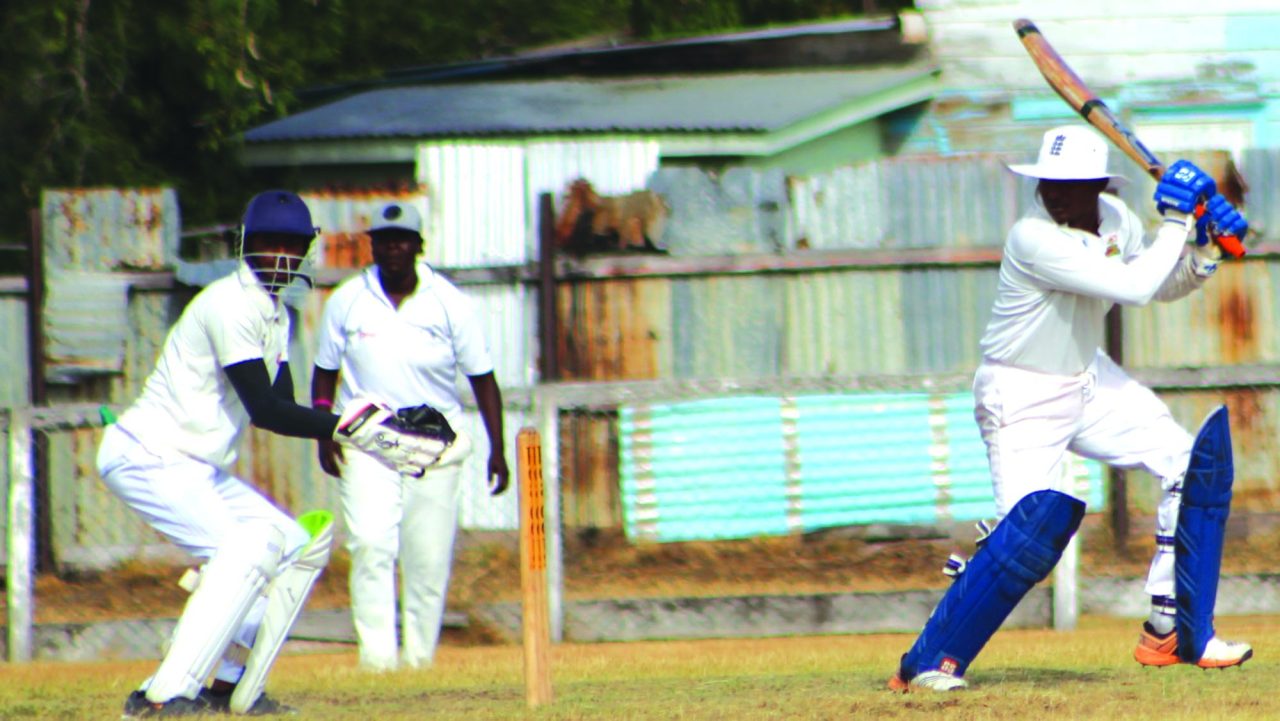 This all-rounder smashed two fours and one six on the large Port Mourant ground outfield, the six being hit out of the ground and was easily the shot of the day.
After Simpson's innings ended on 50, Kissonlall scored 31 while Berbice U-17 player Jonathan Rampersaud scored a promising 21. Bowling for the No 72 All Stars, Tameshawar Baichan had 2-25 while Kameshawar Chatterpaul had 2-26.
In reply, No 72 All Stars ran into a Kevlon Anderson road-block which caused Gavin Chatterpaul to fall for a duck when he was out caught at mid-on by Rampersaud off the bowling of Erva Giddings. At 12-1, Giddings and Junior Sinclair controlled the new-ball, with off-spinner Junior Sinclair removing Mahendra Bhhoj for two, edging one to Shemaine Campbelle at first slip.
The floodgates were opened when Kevlon Anderson rushed the batsmen from the top-end, bowling some searing deliveries. He began his wrecking mission when he bowled Trishan Ramdass for 22.
Thereafter, he removed Samdatt Singh (00) and Amardoo Hemchan (05), both via outside edges that were safely taken by former Berbice U-17 wicket-keeper Chanderpaul Govindhan.
At 68-7, the No 72 All Stars looked far from reaching 100, but Pameshawar Chatterpaul stood tall against a raucous crowd in his sparkling innings of 36, until Keith Simpson put an end to the No 72 All Stars innings at 103 all out.
Anderson finished with 4-24 in eight overs of steamy seam bowling that included one maiden. Junior Sinclair had 2-12 in his quota of eight overs, while left-arm spinner Keith Simpson returned figures of 2-19 in 6.5 overs.
Rose Hall Town will play either Albion or Courtland in the final of this tournament.