Mash 2019
…as 2019 costume band launched
As Guyanese prepare for Mashramani 2019, which will be celebrated on February 23, the Social Cohesion Ministry on Thursday launched its Mash band on Main Street, Georgetown in front of dozens of exhilarated spectators.
Social Cohesion Minister, Dr George Norton was present as the costumes were unveiled to the public. He noted that what was unveiled was a small preview of what would unfold during the Republic Day celebrations. Norton said that the Social Cohesion Ministry was aiming towards inclusivity in the event, noting that the activities have been decentralised.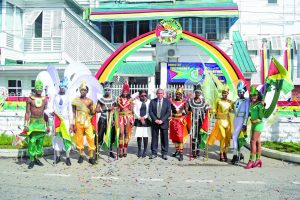 "One of the main aims this year is that we take a bit of the Mash frolic and fun into every region of Guyana. It is part of our Ministry's agenda to ensure inclusivity and equality at all levels, including during the celebration of our nation's journey to become a cooperative republic," said the Minister.
Social Cohesion Ministry Permanent Secretary Melissa Tucker explained that the Ministry was looking to bring out the six different peoples but depicting them as one to demonstrate cooperation.
"Guyana's beauty and cultural diversity are amplified and made possible through the unity of its six peoples. Six races contributing six cultures which in turn contribute to one voice. A singular Guyanese expression of cultural diversity enshrined in the unity of its people," Tucker said.
This year, over 300 revellers are ready to partake in the Ministry's costume parade through the streets of Georgetown. All of the costumes were designed by Neilson Nurse, who has created art pieces for other Ministries and is known for his show-stopping costumes.
The design focused on the colours of the Golden Arrowhead – red, black, gold, white and green – and is aimed at placing emphasis on the cooperative aspect of Guyana.
With just one week left before the official celebrations, there are still a few activities left to complete.
Other exciting events are expected to take place within the month of February including the Children's Costume and Float Parade at the National Park on February 16, the Carib Soca Monarch final, also on February 16 at D'Urban Park.
The Masquerade Jamboree will be held at the Stabroek Square on February 21 while the Flag Raising Ceremony will be hosted on February 22 to usher in February 23 and the headline event – the Costume and Float Parade. The Mashramani festivities do not end on February 23 this year, as a Champions in Concert activity is slated for March 9, in Mahdia, Region Eight (Potaro-Siparuni).