The two unions representing workers attached to the University of Guyana (UG) said on Thursday that its members will not be deterred from their current stint of protest actions as they called out the Social Protection Ministry's Labour Department for being partisan during a meeting on Tuesday. This engagement was intended to resolve issues between employees and the UG administration.
However, University of Guyana Workers' Union and the University of Guyana Senior Staff Association are unsettled over the meeting with Chief Labour Officer Charles Ogle and other officials. In an official statement on Friday, the unions said the Labour Department's representatives did not appear to be the impartial arbiters they were expected to be in such a situation.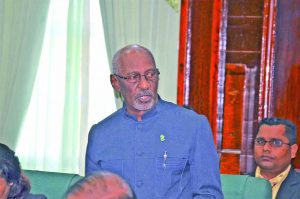 Union representatives further said they were told that striking was "impossible and that it is not right", adding that they were also told that "what was allowed before would not be allowed again and that they could face disciplinary consequences for their role in leading industrial action."
The bodies are taking this directive as a reference to their 2015 strike action. The unions said they expect labour officials to be "unbiased", adding that accusations of acting in favour of a particular political group would never arise. Similar accusations of biasness against the Labour Department were made by the Guyana Teachers Union (GTU) when the department had moved to select its own arbitrator when teachers were protesting last year.
On Thursday, the UG unions said the perceived threats will not deter them from their objectives as they renewed commitments to fighting for the interests of over 1000 staff members and 7000 students at the nation's only tertiary learning institution. They are hopeful that the forensic audit of the university's finances will help members determine the true fiscal status of UG as they continue to demand more investment for teaching and less talk.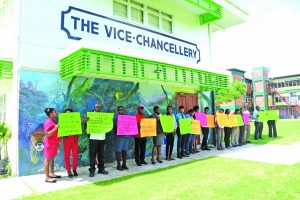 This call was also made at Tuesday's picket at UG's Turkeyen campus. The unions during the picketing exercise had alleged that the institution was unable to properly account for its expenditures, nor could it offer a salary increase to its staffers, although tuition fees have been increasing annually.
President of the UG Senior Staff Association (UGSS) Jewel Thomas had told members of the media earlier that the University has rejected their proposal for an increase in salaries, saying the University has a deficit. She had accused the University of wasteful spending, explaining that the University has been hosting talks and events to accommodate various speakers; some of whom the University does not even know of although funds go towards their accommodation, food and travel.
They said they were later told that the University is in a deficit for 2018. Meanwhile, the University's Vice Chancellor, Professor Ivelaw Griffith had said the unions breached an agreement they had with the institution.
In November 2018, the trade unions representing the university's workers announced that they had rejected the imposed salary increases of three and four per cent, announced by that institution for 2018, as they deemed the entire situation "deeply disrespectful".
According to the unions, "not only are the imposed increases a violation of good labour relations practices, but some might say that arrogance and hypocrisy are displayed in this action."