Guyana has now entered into an air services agreement with New Zealand, which enables both nations to conduct international air transportation following a mutually crafted framework for operation.
The agreement was signed by Foreign Affairs Minister Carl Greenidge and newly-accredited High Commissioner of New Zealand to Guyana, Anton Ojala.
According to the Ministry, this agreement stems from a "joint desire" to widen the opportunities which are presented in international flights. Added to that are "the related parameters that will enhance competitive air transport services, trade, and economic growth".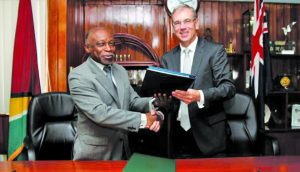 It was mentioned that the countries have a long history of diplomatic ties, ever since they established relations on September 1, 1974.
Last year, Guyana also signed a similar agreement with Ghana, allowing for direct flights and increased connectivity.
Meanwhile, airline companies have also been signalling interest in the Guyanese flight markets, while current operators have increased the number of weekly flights to other destinations.
Last December, American Airlines commenced operations in Guyana, one of its 19 destinations across South America.
At that time, Guyana Civil Aviation Authority (GCAA) Director General Egbert Field took the opportunity to mention that the carrier would advance Guyana's tourism industry and increase the flight count to the North American continent. For him, bridging those gaps is essential for the country and its economy.
Copa Airlines had also announced that it added another flight to its Guyana-Panama route with onward connections effective since December.
With approval from the GCAA, Copa operates the additional flight on Fridays, adding to existing flights on Saturday, Sunday, Tuesday and Wednesday.
Word was also circulating that Eastern Airline had applied for a chance to operate in Guyana, adding to the increased fleet which depart and arrive on a daily basis.
These developments were made around the same time that Guyana stood as the host of the Air Transport Meeting, for the first time, at the Arthur Chung Conference Centre.
The Air Transport Meeting addressed issues such as harmonising the regional air transport regulatory framework as well as the liberalisation of air cargo through regional and global approaches.