Former Director of the National Communications Network (NCN), Kwame McCoy was on Thursday questioned by operatives of the Special Organised Crime Unit (SOCU) in relation to their probe into Pradoville 2.
McCoy, who was in the company of his lawyer, Mark Conway, said he was asked questions pertaining to the relocation of the NCN transmitting tower in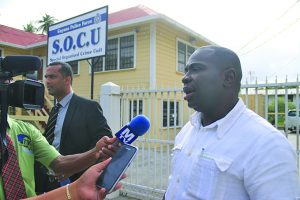 Sparendaam – where the housing scheme was developed.
"They wanted to know about my role in this entire saga of the Pradoville 2, specifically as it relates to me as a Director and my role on the NCN Board, which would have at some point been responsible for the relocation of the Sparendaam tower," he told reporters after exiting the SOCU headquarters on Camp Street.
The transmission tower was eventually relocated to Parfaite Harmonie, West Bank Demerara prior to the land being used for the housing development.
Former Prime Minister Samuel Hinds also faced questions in relation to his role in the removal of the transmitting tower.
Hinds, after exiting SOCU headquarters on Wednesday, explained to the media that the transmission tower was removed to facilitate the Ogle Airport Expansion project.
Former NCN Board Chairman, Dr Nanda Gopaul was also questioned on Wednesday. When asked by the media, he said he was unaware of decisions relating to the removal of the tower.
So far, SOCU has questioned former President Bharrat Jagdeo; former Head of the Presidential Secretariat, Dr Roger Luncheon; former Education Minister Priya Manickchand; former Home Affairs Minister Clement Rohee; former Housing Minister Irfaan Ali and former Natural Resources Minister Robert Persaud, among others.