Hours after the Guyana Police Force (GPF) issued a report that 65-year-old Yvonne Morrison of B Field Sophia, Greater Georgetown, died after falling into the path of a garbage truck, the family is contending that some of the Police's reporting is false.
Police had reported that on Thursday, the now deceased woman was proceeding along the roadway in front of the garbage truck owned by Puran Brothers. It is alleged that as the truck was passing the pedestrian, the driver sounded the horn of the vehicle and as such, the woman stopped and allowed the garbage truck to pass.
As the truck proceeded forward, it was further alleged that the pedestrian lost her balance, fell onto the roadway, and ended up under the truck where the left rear wheel "squeezed" her.
The report further added that the pedestrian was picked up in a semi-conscious condition by the driver and the porters, placed into a motor car, and transported to the Georgetown Public Hospital, where she was treated, but subsequently succumbed to her injuries while receiving treatment.
The driver was then arrested and taken into custody.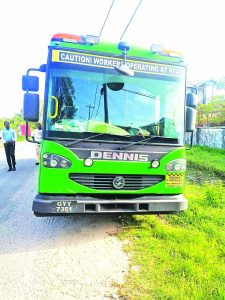 However, the family is refuting the Police's reports, stating that something does not seem right since the driver of the truck keeps changing his story.
One relative related that based on what they were told, the driver first said he did not see the woman, and then he later changed his story to say he saw Morrison and blew his horn. The family noted that it is quite unlikely that Morrison would have fallen into the pathway of the truck.
Morrison's family explained that after she was injured by the truck, instead of taking her to the hospital, she was picked up and taken to her son's house where she was put to wait for the Police to come to the scene.
The woman's family said the Police arrived one hour after the incident which might have contributed to her not surviving her injuries.
After law enforcement officers arrived, her family said she was taken to the hospital where she later succumbed to her injuries. The relatives are asking for a thorough investigation into the woman's death.