Xtreme Clean/GT Beer 'Gold Rush' Futsal Tournament
‒ Tucville boot Back Circle
Tuesday evening at the National Gymnasium, was a night of glorious upsets in the quarter-finals of the Xtreme Cleaners/GT Beer Gold Rush Futsal Tournament as Sophia produced a stunning performance against Bent Street to reach tonight's semi-finals.
The enthralling night begun with Sophia steamrolling their opposition 4-1 on the back of doubles from Desmond Cottam and Omallo Williams. Cottam opened the scoring in the 5th with a scorching strike from the right followed by another nimble piece of footwork in the 17th.
Orandel  then gave the opposition a glimmer of hope with a goal in the 25th minute but Omallo added two goals soon after in the 28th and 30th.
In the highest scoring game, Tucville upstaged Back Circle with a 6-3 thrashing. Jermaine 'Panky' Junior led the way with a brace. Junior scored in the 25th and 28th and there was a barrage of goals from Delon Williams (3rd), Jahaal Greaves (4th) , Tefon Daly (17th) and Ryan Hackett (27th).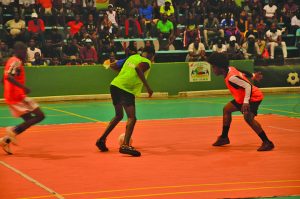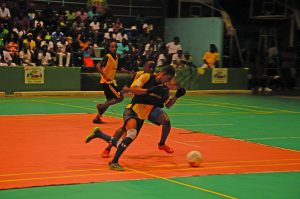 For Albouystown their win 2-1 was orchestrated by Roy Cassou (8th) and Marlon Nedd (12th) while Samuel Hunte had put Broad Street ahead in the 5th minute.
In the final match of the night Sparta Boss came-from-behind to defeated a spirited Future Stars 3-2 via goals by Devon Millington, Sheldon Shepherd and Eusi Phillips. Millington and Shepherd netted in the 14th and 17th respectively while Phillips scored the winner just before the full time whistle in the 29th minute.
For the opposition Jeremy Garrett (6th) Keron Solomon (26th) were the men that had Sparta on their heels. Tonight' semi-finals which will be played at the aforementioned venue will pit Sophia against Tucville followed by Sparta Boss clashing Albouystown.
The tourney's final is slated for Saturday with the winners set to pocket $500,000 and the championship trophy. The runner-ups will receive $200,000 and the respective accolade while third and fourth-place finishers will respectively pocket $100,000 and $50,000 and the corresponding trophy.
On the individual side, $50,000 will be awarded to the Most Valuable Player (MVP).
Other sponsors of the event include Fas Grafix, Jefford's Distribution and Sales, Giftland Distribution Store and FARMSUP Mining Investments Inc.