Story and Photos by Jemima Holmes
Having been booted from the tournament in the semifinal stage last year, St. Agnes Primary have returned to the Courts 11-and-Under Pee Wee Football Tournament this year with victory and vengeance on their minds.
Last weekend, this school created one of the biggest upsets of the 2019 tournament by eliminating last year's runners-up and former Champions, West Ruimveldt Primary.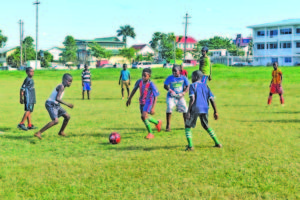 St. Agnes' 1-0 victory was a sensational one, and came second only to Tucville Primary's brushing aside of 2018 champions St. Pius Primary.
This fresh-faced team from a primary school in Georgetown is now focused on bringing home the championship trophy. The title has, however, been elusive; they were knocked out in the final in 2016, and in the quarterfinal in 2018.
Guyana Times Sport caught up with the St Agnes team on Thursday afternoon, and their dedicated Coach Troy Wright was hard at work with "the boys", whom he was taking through their drills.
Team Captain Darius Chester highlighted the areas his team needs to work on in order to win on Saturday.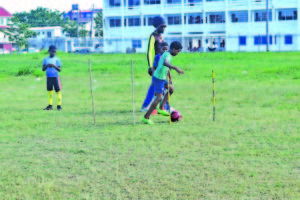 "We need to finish. Stop dribbling, work on our defense; stop mis-kicking and work on our finishing," Chester shared.
The star of last week's show was goalkeeper Shemar Stewart, who held on to every one of West Ruimveldt's attempts at the goal in order to ensure that his team's lone goal would be enough for a win.
The young man spoke on his thoughts during those crucial moments, and his expectations for Saturday's (today's) semifinal. "That was good for me. Everything went good for me, I just had to hold the ball and keep good.
"I have to keep good (and) save good, so we could win the competition and bring home the trophy," the youngster explained.
Speaking with this newscast, St. Agnes' Coach Troy Wright expressed all confidence in his team, most of whom are new to the competition.
"Last year we had a better team. This is a young team, now knitting together, and I said once they followed instructions we can move from strength to strength.
"A lot of people didn't think this team would be in the semifinal. There were a lot of doubts, but I said this is a new generation and today we're in the semis after 2016," the coach disclosed.
When probed about their encounter with West Ruimveldt last Saturday, Wright explained that he had given the team a game plan, which included focus, and they had stuck to it.
"I beat West Ruimveldt in 2016 to go to a final by the same margin: 1-0. I told these youngsters, 'We beat them already, and we can beat them again. Just stick to our game plan, don't look in the crowd, keep your eyes on the ball and follow instructions'.
"They followed those instructions, and they've done it again. We're in the semifinal," Wright explained.
Looking ahead to today's semifinal, the coach is looking to exact a bit of revenge against their opponent. While he was tight lipped about their technical preparations, Wright declared that his team is ready to battle.
"This year we are facing Tucville again, so it will be a great opportunity to get our redemption, our revenge. These youngsters are up to it. They said they really want it, so we're working hard every day after school. We're working on our game plan," he stated.