…says killed stepsister, her son after being accused of rape
Nearly four years after the brutal murder of a mother and son, Orin Rodrigues of Moblissa, Region 10 (Upper Demerara-Berbice) pleaded guilty to manslaughter when he appeared before Justice Brassington Reynolds at the High Court in Georgetown.
On Thursday, Rodrigues admitted that on November 30, 2013, at Moblissa, he was responsible for the deaths of his stepsister, Molly James, then 30, and her 15-year-old son, Aaron James, who were both fatally stabbed.
According to the particulars of the matter, on November 29, 2013, a relative was washing clothes at the Moblissa residence when Rodrigues had gone up and placed a knife to her neck and had sexual intercourse with her, without her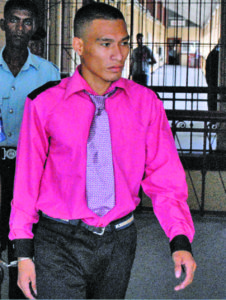 consent. After the ordeal, the young woman told James what occurred and the family made a report to the Police. However, this angered Rodrigues, who had reportedly confessed that he also engaged in intercourse with the child, one day prior.
It was contended that the killer made open promises to kill his stepsister and "her pickney" with a knife. The accused accepted that on November 30 just after midnight, he went to the family's dwelling place where James and her son were asleep and stabbed them to death, after which he made good his escape. He was found on December 1, 2013 about two and half miles away from where the incident took place.
In his caution statement to Police, the self-confessed double killer said that he did in fact kill the mother and child on account of the report which was made to Police about him raping the teenager. During preliminary proceedings at the Magistrate's Court, the accused made claims that Police beat him, held his hand and forced him to sign a statement, but the lower court upheld the statement and maintained that it was freely given.
During High Court proceedings on Thursday, Justice Reynolds ordered a probation report be submitted, which will be taken into consideration when Rodrigues is being sentenced on October 26. The case was led by Prosecutor Shawnette Austin while the self-confessed double killer was represented by defence counsel Maxwell McKay.