By Delvon Mc Ewan in Cayenne, French Guiana
The fifth edition of the tennis Inter Guiana Games (IGG) last evening had its official opening at the League Centre in the capital of French Guiana, Cayenne.
President of the French Guiana League, Christian Pitta declared the tournament open as he welcomed the four teams to French Guiana. He urged the teams to be competitive as well as to enjoy what his country has to offer.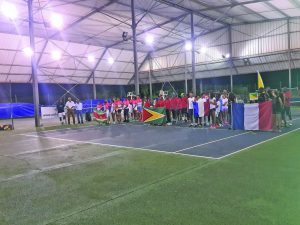 The Tennis IGG which started in 2012 usually features three teams, French Guiana, Suriname and Guyana. However, for the first time the tournament will feature the three traditional teams and Martinique.
Meanwhile in his brief but jovial message Vice President of the Suriname Tennis Federation, Karl Ganteaume shared similar sentiments as his French counterpart while he joked about Guyana having new courts when the tournament move there next years. Whether it was just a joke or sarcasm it was analogous to what former President of the Guyana Lawn Tennis Association (GLTA), Grace McCalman has been seeking during her tenure as President and continues to seek now as a committee member.
The tournament was last year held in Suriname, it will start here (French Guiana) tomorrow and will move to Guyana next year. Suriname are the reigning champions and have won the tournament on three occasions while French Guiana won it in its third year at home. Guyana is yet to win the tournament but are confident of completing the task this time around.
One of Guyana's most experience tennis player Afruica Gentle believes team Guyana stands a chance but the boys will have to pull their weights.
According to Gentle, the team can gained their required points but the boys will have to put in that extra effort judging from previous experience. If they failed at getting it right it can cause Guyana points since the winners emerge from a point system.
The number one ranked junior Guyanese female player is very confident about the girls, especially her individual performance since she has been outstanding since the start of the year.
The Tennis IGG Games are for junior tennis players and is played across three categories, under-12s, under-14s and under-18s for boys and girls. It is broken into the singles and doubles as well.
Guyana will open its campaign today and will be looking to better their 2014 runners up finish.