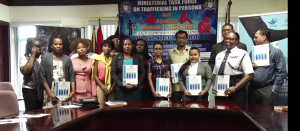 The 2019-2020 National Plan of Action for the prevention and response to Trafficking In Persons is built on the four P's: paradigm of prevention, protection, prosecution and partnership, and seeks to tackle issues associated with TIP.
The plan was launched on Wednesday at the Public Security Ministry and seeks to bring awareness on TIP by educating the public on the work that is being done by the unit in this regard.
The action plan focuses on training and awareness, protection, reintegration, prosecution and legal research and through the partnering agencies such as the Guyana Police Force, Social Protection and Public Security Ministries, strategies outlined in the action plan will be implemented.
The Social Protection Ministry believes that training and awareness, sensitisation, protection and reintegration of victims with emphasis on improving local and international partnerships are critical elements in tackling this scourge.
Deputy Director of Social Services, Abike Samuels in her remarks noted that this is only one of the plethora of social issues in which her Ministry is actively involved. She said TIP is a multidisciplinary issue and as a result, a multi-stakeholder response is necessary.
Samuels added that coordination at regional, national and international levels is the only way to tackle this issue and highlighted her Ministry's significant devoted resources to this fight annually.
"We are committed to leveraging every resource we have to confront this threat and to support victims and survivors and to hold traffickers accountable for their crimes," she added.
She highlighted the challenges involved as the situation worsens as a result of the influx of foreigners at our borders who are at risk of being exploited by unscrupulous persons.
She disclosed that in 2018, the unit recorded and assisted some 156 victims of TIP and referred 93 to other facilities for support.
"A main objective of the unit is to ensure that victims are empowered to testify against their perpetrators and progress is being made in this regard We have made significant strides in Guyana and we are hoping that by the end of 2010 we would have a significant reduction or total elimination in cases," she said.
Meanwhile, Public Security Minister Khemraj Ramjattan in his feature address, reiterated Guyana's progress in this regard and stated that these successes should be highlighted.
He pointed out that despite the challenges faced, 17 persons have been charged for TIP and three for other offences relating to this crime. Three have also been convicted.
Ramjattan noted that his Administration is aware of the dangers of human trafficking and acknowledges the effects not only for victims but also for the economy and workforce at large. As a result, they will continue to coordinate jointly in the implementation of a plan to combat this modern-day slavery.
However, the partnering agencies and stakeholders are committed to working together in the implementation and execution of the strategies outlined in the action plan and are anticipating more success stories.
The 2017-2018 period saw collaborative gains made through awareness sessions, training courses, victim protection, responding to reports of Trafficking In Persons to name a few.
Many of these collaborative efforts were facilitated through the Task Force's Sub Committees and arrangements are in place for these sub-teams to increase in intensity during the new reporting period.
The 2019-2020 period is also expected to see further improvements through the implementation of Standard Operating Procedures due to a collaborative project through the International Organisation for Migration, Social Protection Ministry and Public Security Ministry and a Code of Conduct through grant functioning from the Caribbean Development Bank.