Harold 'Top Gun' Hopkinson was on target in his most recent international outing in Suriname where he won the Super Senior Category with 75.9%.
The veteran practical shooter took part in the MTV Resort Official Opening Invitational Match, held on Sunday, July 2 in Suriname which is owned by Roy Lie, a Surinamese Standard Division competitor.
Due to this high percentage the Guyana's 'Top Gun' also took sixth place overall, achieving two seconds and one third place finish in three of the six stages.
At this international competition, the Hopkinson proved that by applying the basic proven fundamentals and constant training in the art of practical shooting, a dedicated shooter can do very well.
Hopkinson competed with an unfamiliar high recoiling .40 calibre CZ Tactical Sport pistol made in the Czech Republic, which was loaned to him by his Surinamese counterpart, Regional Director, Mr. Serge Tjin Wong Joe.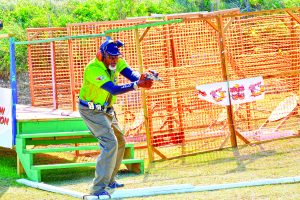 For the year Hopkinson was successful in the Production, Standard and precision pistol competitions locally and overseas. The Production division is listed pistols out of the box, with absolutely no modifications. The pistol must have a minimum trigger pressure of five pounds.
The Open division was won by The US Grand Master, Shannon Smith of the Universal Shooting Academy, followed by Desmond Chang and the hard working Match Director Sergio Tjon, who organised the event and was still able to take the third spot from Andrew Wilson. Hu Romano Adel, took the Production Division. The Standard Divison was won by Stanley Lau.
Hopkinson took the Super Senior top spot. His next stop will be Jamaica where he will be shooting his highly modified 9mm pistol from Akai Custom Gun Works, Miami.
The veteran marksman explained that he is doing all the shooting and training as the aim is to finish in top ten, or even win the Super Senior Division at the IPSC World Shoot to be held in France this August. The Guyana National Rifle Association member, who is also the IPSC Regional Director, will be accompanied by the former Regional Director Mohamed Arafat Qualander, who will compete in the Production Division.