Local law school
The task force looking into the establishment of the JOF Haynes Law School of the Americas in Guyana recently met to examine the provisions in a revised business plan of the University College of the Caribbean (UCC); one of the Jamaican Partners in the Public Private Partnership (PPP) intended to establish the law school.
The meeting took place on Thursday and saw the attendance of Attorney General and Legal Affairs Minister Basil Williams.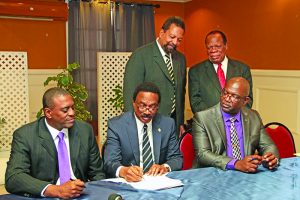 The Business Plan was submitted pursuant to a Memorandum of Understanding entered into between the UCC, Law College of the Americas (LCA) and the Government of Guyana back in January, which contained a provision for a feasibility study to be done to determine the viability of establishing the law school.
The discussions are ongoing and the task force will submit a response to the proposals in the business plan. It is expected also that the task force will submit counter proposals to the joint venture partners.
The members of the task force present were: Professor Harold Lutchman; Professor Rudolph James; Justice James Patterson; Justice Claudette Singh SC.; Deputy Vice Chancellor of the University of Guyana, Dr Barbara Reynolds; Economist, Dr Morris Odle; Chartered Accountant Christopher Ram; Law Revision Consultant Justice Abdullahi Zuru, and Solicitor General Kim Kyte.
Government's move to establish the JOF Haynes Law School of the Americas in Guyana comes in light of law students from the University of Guyana (UG) continuing to face challenges in finding spots at the Hugh Wooding Law School (HWLS) in Trinidad to pursue their Legal Education Certificate. The agreement between the Guyana Government and HWLS to facilitate this arrangement comes to an end next year and so Government is hoping to have the law school up and running here by 2018.
However, before any physical construction gets underway, a feasibility study will have to be conducted to determine the best route of implementing this project.
The project will be undertaken in the form of a Public Private Partnership, with Government holding 30 per cent interest and the private partners 70 per cent. Government's contribution will be to provide the land needed for the development of the school, which is anticipated to accommodate up to 400 students. With the law school operating under the Council of Legal Education, it will therefore be open to students all across the region.