…calls on manufacturing/private sector to "wake up"
Finance Minister Winston Jordan has made an impassioned plea to the Guyanese public to make it a priority to purchase locally produced goods.
Speaking to journalists on Thursday, he noted that Government is essentially appealing to the "patriotic sense of our people" to buy local first. While denying there is intention to restrict the importation of foreign goods in Guyana, he said there is absolutely no reason for Guyanese to be seeking products outside of Guyana, especially when those very products are produced here.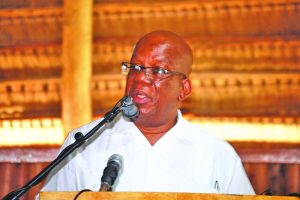 "We don't want people buying foreign water when Banks DIH and DDL have water here. We don't want people buying foreign jams, and certainly not with taxpayers' money. You could do whatever you want with your money, (but) when it comes to taxpayers' money, we want to have a 'Made in Guyana', a 'Buy local first' kind of approach (to shopping)," he told reporters.
Jordan disclosed that Government will soon take up a "buy local first" approach when going through the procurement process, in order to be the leader in this move to encourage purchasing of locally made products.
Asked how Government plans to fast-track this initiative, Jordan said a number of loans would provide for such. He added that these loans to which he is alluding are available to the manufacturing sector and budding entrepreneurs, so that they could have the start they need.
He spoke to the existence of the $100 million Sustainable Livelihood and Entrepreneurial Development (SLED) program, which is being used to help young entrepreneurs by giving them grants. He explained that it is very difficult for young people to get loans from commercials banks.
He said Government has already explored the possibility of having two abattoirs. Money to have one each in Regions Five and Nine has already been secured.
"We have already secured money to build a standard lab. Hopefully, we could get a piece of land next to the forensic lab, so that there could be a lot of synergies between the two to assist in quality control, packaging and export, since a number of exports can't go abroad because people don't believe it has gone through that rigour. All of this is to overcome that. And we have to support our people and see how the banking system can help them," he said.
"I am urging Guyanese to see ourselves first. It is disheartening to see how many things can come from the smallest of Islands in the Caribbean and (be) sold here, while we can't penetrate the smallest of islands selling the same thing… It is really heart-breaking to see these things," he disclosed.
He also called on the manufacturing and private sector in general to "wake up".
"We need to be dispassionate and non-partisan when it comes to supporting 'Made in Guyana' essentially," the Finance Minister said.