ꟷ urges Granger to concede defeat, rallies support for int'l community
Sherwyn Downer, whose National Mining Workers Union (NMWU) specialises in representing gold miners in the interior, took a stand for democracy by mounting a protest outside of the Guyana Elections Commission (GECOM) on Sunday.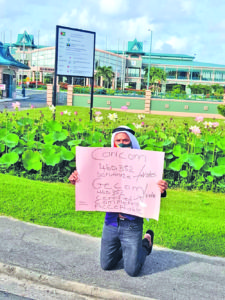 That same day, Downer also mounted a one-man protest in front of Caribbean Community (Caricom) headquarters, the United States (US) Embassy, the British High Commission, the European Union and the Organisation of American States (OAS).
He is not protesting against these diplomatic organisations, however. Downer is protesting the continuation of the A Partnership for National Unity/Alliance For Change's (APNU/AFC) stay in office despite losing the March 2 General and Regional Elections and is urging President David Granger to concede defeat.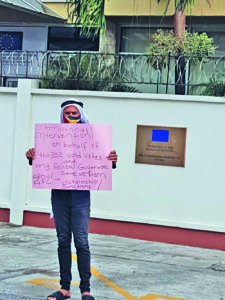 "I choose to take a side! I take the side of transparent, fair and credible elections in Guyana and I choose to be in the corner of democracy. It is almost four months now since Guyanese went to the polls on March 2nd to elect and vote for a party of our choice to form the next Government," he said in a statement afterwards.
"But most unfortunately, to date, the will of the Guyanese people have not been respected by the APNU/AFC caretaker Government and (Chief Elections Officer) CEO Keith Lowenfield of the Guyana Elections Commission (GECOM)."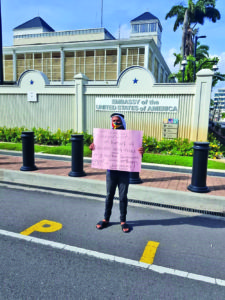 According to Downer, he is joining the rest of the international and local community in calling for President Granger to accept his defeat at the March 2 polls, a defeat made apparent by the results of the National Recount. He urged the President to do the gentlemanly thing and "walk away."
"As a trade unionist in my country of which I am proud of and proud to be Guyanese, it is beyond sad that I am not proud of my President and his coalition partners who are refusing to accept electoral defeat and show respect for the will of the Guyanese people," Downer said.
"I wish to remind Granger that Guyanese have a desire to be governed and not ruled and that desire was shown on elections day on March 2, 2020. We have spoken and the (Statements of Poll) SoPs and (Statements of Recount) SoRs are our evidence that Guyanese have chosen a party that must and should be allowed to form a Government and govern Guyana without haste."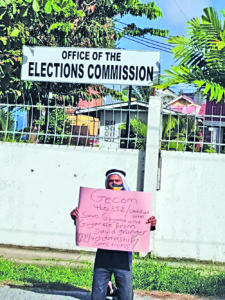 Downer also addressed the attacks on the character of Barbados Prime Minister and Caricom Chairperson Mia Mottley, by supporters of APNU/AFC. A deluge of personal attacks from APNU/AFC supporters was meted out on her after she made a broadcast in which she was critical of Lowenfield arbitrarily dumping hundreds of thousands of votes and manipulating the election results in the coalition's favour. Nor is she alone, as supporters have also attacked representatives of the international community who have been clear in calling for the will of the people to be respected.
Elections were held since March 2, 2020, but a winner is yet to be declared. After controversy erupted when Region Four Returning Officer twice subverted the process and declared fraudulent numbers, a recount was done that showed that the PPP/C won the elections by 15,416 votes. But in a report done by Lowenfield, it was claimed that the APNU/AFC coalition garnered 171,825 votes while the PPP/C gained 166,343 votes.
How the CEO arrived at those figures is unknown, since the certified results from the legally conducted recount exercise supervised by GECOM and a high-level team from the Caribbean Community (Caricom) pellucidly show that the PPP/C won with 233,336 votes while the APNU/AFC garnered 217,920.