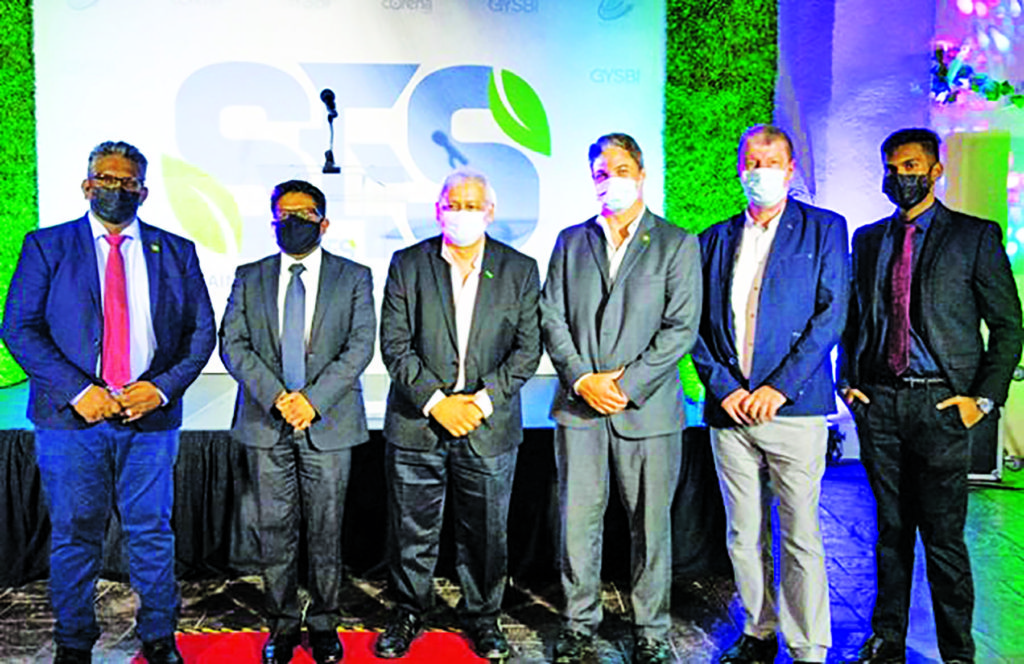 With Tuesday's launch of Sustainable Environmental Solutions (SES) Incorporated, a US$10 million joint venture between several local investors, Finance Minister, Dr Ashni Singh has reminded Guyanese about the numerous investment opportunities in the oil and gas supply chain.
Dr Singh was at the time speaking at the launch of the joint venture between Gaico Construction and General Services Incorporated, Corena Group and Guyana Shore Based Incorporated (GYSBI).
"We've seen the incredible transformation in the Houston waterfront by GYSBI. We've now seen value-added services like those that will be provided by SES. We, the Government, have been speaking about the incredible transformation that is already underway," he said.
"I could literally spend hours speaking about the various very exciting aspects of the transformation that is already underway in Guyana. And if we were very simply to contemplate areas like physical and public infrastructure. Consider for a moment, the agenda of infrastructure we've announced in transport alone, including roads throughout Guyana."
The Finance Minister noted that the infrastructure include roads that would connect Guyana to its neighbours like Suriname and Brazil, as well as roads that would serve as internal corridors.
Speaking to the fact that the oil and gas sector is the dominant driver of economic development, Dr Singh urged locals to get themselves familiar with the opportunities in both the production and supply chain. According to him, Government remains committed to creating an enabling environment for investors.
"There's a remarkable opportunity in both the production and supply chain in relation to the oil and gas sector, as you've demonstrated today, but also in the non-oil economy. Whether it's in agriculture, hospitality or construction or financial services. And it behoves us in Government and we take this responsibility seriously. We commit to you that we will continue to do as we've always done.
"We will continue to ensure the environment for doing business is a favourable and conducive one. But it is extremely important for the Private Sector to be proactive in identifying opportunities and preparing yourself to seize those opportunities into real and practical investments," the Minister said.
One place that businesses can go to learn about these investment opportunities is the Centre for Local Business Development (CLBD), an entity established to bridge the gap between local businesses and local content opportunities in the oil and gas sector. As of February 2021, it reportedly had more than 2700 Guyanese businesses registered in its database.
The CLBD was set up in 2017 by ExxonMobil, in collaboration with DAI Global, LLC, to assist small and medium-sized local businesses to build their capacity and their ability to compete to offer services in the oil and gas sector and other industries.
When it was set up, the Centre was expected to focus on developing local vendors that serve key segments of the oil and gas industry, including areas such as safety equipment, marine operations, offshore supply and civil construction. It was also supposed to provide mentoring, coaching, and access to financial support.
In November of last year, oil giant ExxonMobil had claimed to have spent over $60 billion to purchase goods and services from local suppliers since 2015. Additionally, the company had claimed that for the first half of 2020 alone, over 600 Guyanese vendors were used for goods and services, accounting for more than $14 billion.
The SES initiative, which was officially launched at Duke Lodge on Tuesday evening, is one that will see the joint venture partners managing ExxonMobil's hazardous and non-hazardous waste, as well as drill cuttings. The consortium has a 10-year contract with Exxon to do this.