– refuses "highly inappropriate" request; demands surrender of Council's assets
It was reported last month that outgoing Georgetown Mayor Ubraj Narine would facilitate a smooth transition, as his successor Alfred Mentore takes over. Correspondence has come to light, however, indicating that the handover has been anything but smooth.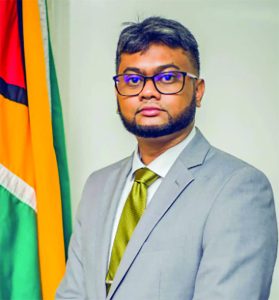 According to a letter seen by this publication, dated July 14, 2023 and addressed to former Mayor Ubraj Narine, acting Town Clerk Candace Nelson has accused him of hindering the smooth transition of the offices of Mayor and Deputy Mayor. In the letter, it was revealed that Nelson had written the outgoing Mayor on July 11 about the transition process. But in her subsequent letter, Nelson revealed that when she visited the Office of the Mayor to facilitate the handover process on July 14, Narine had suddenly refused to cooperate with her.
"I am now perplexed as to the reason for your change in judgement and your refusal to facilitate the handover of the council's property. Sir, your actions are now hindering the works of the administration to facilitate a smooth transmission of the Offices of the Mayor and Deputy Mayor and their comfort thereafter. I must remind you that the Town Clerk is the custodian of the assets of the council, and to update the council's inventory, a proper handover must be done," Nelson wrote in her letter.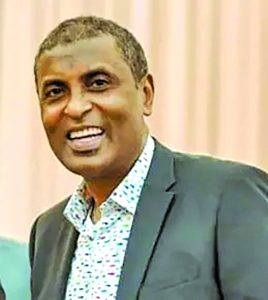 The letter further revealed that Narine had requested to use the boardroom in the Mayor's Office for reasons unknown to her. In the letter, Nelson revealed that she had refused to grant this request, since it was "highly inappropriate".
"I, therefore, ask that you surrender the assets of the council, so that the administration can fulfill their duties," Nelson concluded in the letter, which was copied to Minister within the Local Government and Regional Development Ministry, Anand Persaud; Chairman of the Local Government Commission, Julius Faerber; Mayor-elect Alfred Mentore, City Engineer Colvern Venture, acting Chief Constable Virginan Gafur, and Internal Auditor Omodele Newton.
Earlier this month A Partnership for National Unity's (APNU) Mentore, despite not securing the confidence of his constituency at the local government polls, was elected to serve as Mayor of Georgetown. Mentore, who represented APNU in Constituency Four (Lamaha Gardens, Newtown, Campbellville, Section K Campbellville & Bel Air Park) in Georgetown, lost to the candidate for the People's Progressive Party/Civic (PPP/C), Alfonso Fidel De Armas-Archbold, by 31 votes.
Nevertheless, Mentore was elected to the Georgetown City Council as a proportional representation candidate.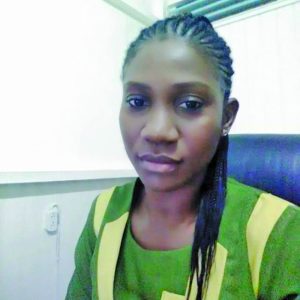 There has been speculation in the public that there is dissension within the party over who should have been elected Mayor, with one section of the party backing Mentore and another section backing People's National Congress/Reform (PNC/R) Georgetown District Chairman Troy Garraway, who was nevertheless appointed a member of the Finance Committee of the Council.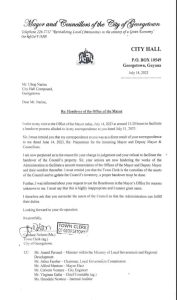 Mentore has already served two terms on the City Council, and was also the former Deputy Mayor at the time of Local Government Elections 2023. After being elected new Mayor, he addressed the fact that his constituency rejected him.
"I still love all of you, even though I might not be your constituency Councillor this term, but will work to regain your trust and support in this greater calling as Mayor, as I serve the City in a new capacity," Mentore had expressed.
He had also called for Councillors to put their political differences aside and work in the interest of the capital city.
Mentore's predecessor Narine was elected to the post of Mayor in 2018, and throughout his tenure, faced immense backlash over a wide array of issues surrounding the management of the capital city. He chose not to run for reelection in this year's LGE. (G-3)