Armed bandit Emanuel Hawker, a 23-year-old resident of West Ruimveldt in Georgetown, is currently nursing a gunshot wound at the Georgetown Public Hospital following a failed robbery attempt on Friday.
According to information received, the shooting incident took place at about 12:00h in front of the Rio Night Club in Queenstown, Georgetown, after Hawker had allegedly targeted four female Venezuelan nationals who were staying at the nightclub at the time.
The victims are: Maria Peraz, 27, who had her Samsung cellphone stolen; Jenineth Salozar, 21, who was relieved of her two cellphones; Karla Meza, 21, whose blue Samsung cellphone was taken; and Jonan Fiqueroa, 35, who had her blue Samsung S9 stolen.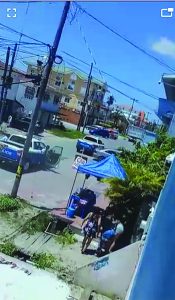 Investigations have revealed that the women were in their respective apartments within the building when Hawker gained access through an open door. He brandished a suspected .32 Revolver that he had concealed in the waist of his pants, and proceeded to forcibly open the doors to the rooms where the victims were located. Hawker then robbed the women of their cellphones before fleeing the scene.
The matter was promptly reported to the Alberttown Police Station and the lawmen responded immediately. As they approached the building, they observed the suspect walking down the steps with the firearm in his right hand. The patrol officers instructed him to drop the weapon and surrender, but Hawker instead discharged three rounds in the direction of the Police ranks, forcing them to seek cover.
In response, one of the officers returned fire, striking Hawker in his right thigh. He fell to the ground, dropping the firearm, and was immediately apprehended and transported to the Georgetown Public Hospital, where he is currently receiving medical attention under Police guard.
During the investigation, the victims' stolen cell phones were found in Hawker's pants pockets, and seven live .32 rounds of ammunition were discovered in his right-side pants pocket. The Police also recovered the weapon used in the crime, which had its serial number filed off; and three spent shells and three live .32 rounds were found in its chamber. Investigations are ongoing, and charges are expected to be filed against Hawker in due course.
This is the second time Hawker has been arrested for the illegal possession of a gun and ammunition. In May 2020, he and Gregory Boyce, 32, were arrested and charged with the illegal possession of a .32 pistol and two rounds of live .32 ammunition. That arrest had stemmed from an interception by the Police during which the firearm and ammunition were found in a vehicle. Both suspects had attempted to escape, but were apprehended along with the driver. The men were subsequently remanded to prison, and the Police believe they may have thwarted a robbery.