Uncapped Marketplace, a signature 2-day event of the Guyana Manufacturing and Services Association (GMSA) made its comeback on Saturday, linking Guyanese businesses with the population and new markets.
The COVID-19 pandemic, for some entrepreneurs, birthed many innovative and marketable ideas. Some were given a chance to shine during the event.
Over the weekend, the Guyana National Stadium will see over 100 local businesses from around the country showcasing their products. While small businesses are taking advantage of the opportunity to get into new households and shelves, established brands are also sparing no effort to participate.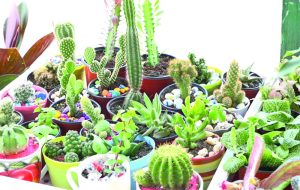 Throughout Saturday, agro-processors and Guyanese entrepreneurs laid out their products in creative arrays to attract the attention of potential buyers. While some were promoting their creations, other well-established names garnered attention from the masses.
From agricultural produce, fresh breads, bottled products and crafts, the selection was endless.
Speaking with Guyana Times, GMSA Vice President Ramsay Ali said the pandemic would have affected businesses but the organisation has given them a chance to reinvent and improve their products.
"The main reason for this is because COVID would have hurt significantly the small agro-processing businesses in terms of revenue. So, we have just about 110 agro-processors. We have seen significant improvement in their businesses over the past two years. They had new lines of products and improved their current products," Ali underscored.
Uncapped Marketplace is a stepping stone to making businesses export-ready. Presently, some 45 establishments are already in that league.
"The idea of Uncapped was always to take the businesses that are export-ready to a different level. Hopefully, this year, we can go to one Caribbean market and eventually the US…We have to support these businesses. We got to help them. We have to do a couple more of these events in Guyana. There are about 45 or so that are export-ready to take them to the Caribbean," Ali stated.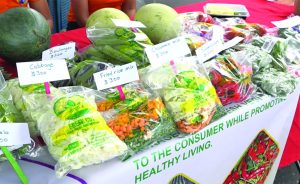 Carol Fraser of Carol's Kitchen established her entire baking enterprise during the pandemic, offering seasonal products such as the famous Guyanese black cake and cinnamon buns year-round.
"The black cake is a best seller. From the time I hit here, it started to sell. That is part of our culture and you find that during the year if somebody needs a black cake to buy they can't find it. So, I just want to break that barrier," the East Coast Demerara entrepreneur detailed.
She has also created several varieties of bread with higher nutritional value and zero sugar for persons with diabetes.
"During the pandemic, I gave birth to so many ideas. I was thinking of what I can do to benefit our people. What I realised is that health and wellness are very important. Diabetes is on the rise and many times; we do not cater to these people. I decided to put my thoughts together and came up with the whole grain bread with no sugar, just a little honey and all the seeds that I thought were wholesome."
Orion Hope started his lemonade business at the age of 10. Four years later, Orion's Elemonator Stand is successful and the St Joseph High student said he has expanded to cater for events.
"We sell lemonade infused with honey and natural flavours with fruits…We cater weddings and so on. And we're already working on expanding the business," the young entrepreneur divulged.
Natasha Blake of Everything Makes Craft has been transforming used and discarded items into valuable products. This venture, she shared, aligns with the vision of sustainability and a green economy.
"These things are all handcrafted. It's locally done. We take the trash and turn them into treasure. When you throw away those bottles, we take them and create beautiful pieces. Some people never knew that these things do exist so they can come and get something that stands out," Blake noted.
The Small Business Bureau is on-site to provide guidance on persons willing to start or expand their trade; as well as promote the financing available to clients.
Training facilitator at the Bureau, Raushell Underwood said, "Clients or potential clients can come register with the Small Business Bureau and they can get access to lands, training, and even our grants. Persons are interested, especially where loans are concerned."
Uncapped will pull its curtains this evening.