…awaiting response from company as impasse stands
The Guyana Bauxite and General Workers Union (GBGWU) on Friday met with officials of the Bauxite Company of Guyana Incorporated (BCGI) for another round of discussions to put an end to the ongoing friction between the company and its dismissed workers, which ended with no possible solution to the problem.
The meeting was held with GBGWU President, Leslie Gonsalves; General Secretary, Lincoln Lewis; Assistant Secretary, Sheldon Thomas; and BCGI branch leaders Ephraim Velloza and Sheldon Thomas. BCGI – owned by Russian Aluminium Company RUSAL – presented its delegation comprising of company representative, Permyakov Vladimir; Personnel Manager, Mikhail Krupenin and Labour Adviser; Mohamed Akeel.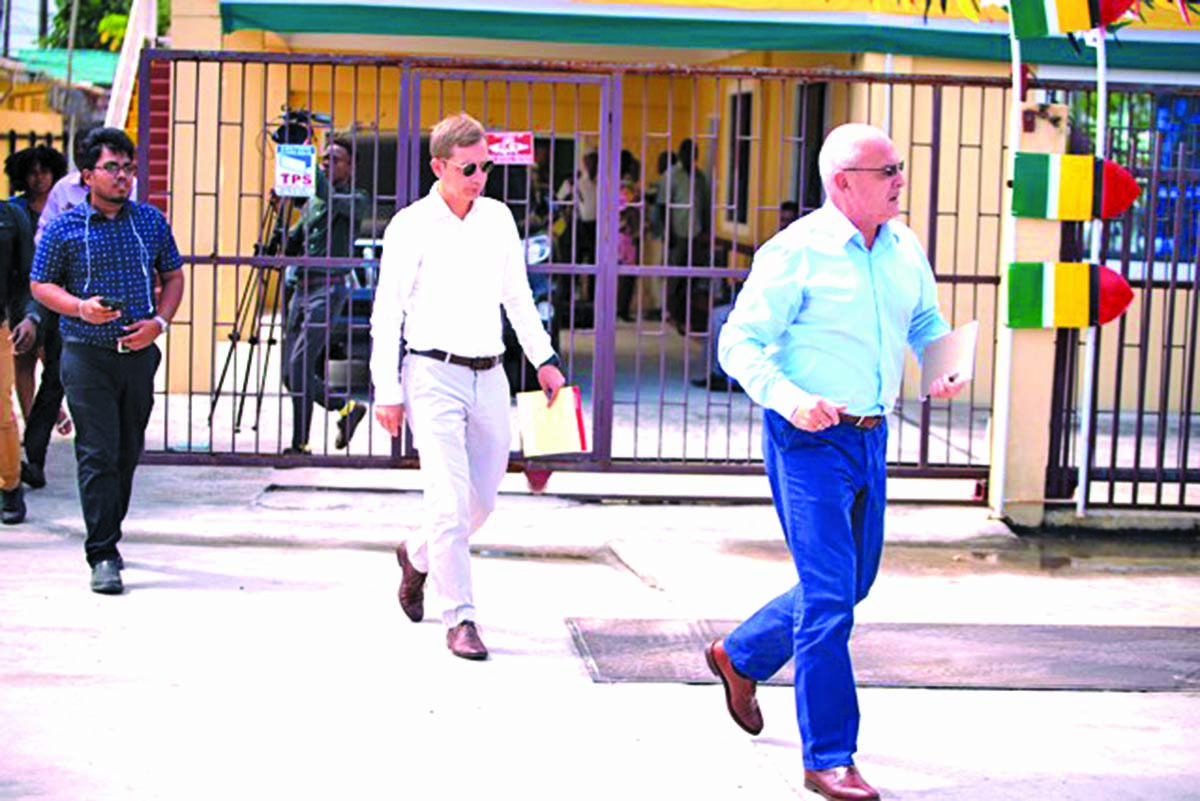 However, after amicable talks, RUSAL's representatives chose to return to their Russian counterpart for advice on the way forward and no agreement was arrived at. The discussion circled around the reinstatement of the dismissed workers and the removal of the blockage on the Berbice River.
The Union would have also submitted terms and conditions for which normalcy can be attained, to which the company is yet to respond.
While concerned about the "absence of decision-making" on the company's side, the Union said that they are looking forward to the next engagement on Tuesday.
"The Union, while concerned about the absence of decision-making, is prepared to wait on a response expected at the next meeting as this will determine the way forward and the genuine commitment of BCGI of engaging the Union with integrity and willingness for mutually acceptable decision. Until such time the impasse remains."
BCGI had dismissed 61 workers on February 19, 2019, for protesting against a one per cent wage increase and since then, employees blocked a section of the river which leads to the company's operation located at Aroaima, Region 10 (Upper Demerara-Berbice). A further 30 persons were dismissed since the affected section of the operation had to be temporarily closed.
The Berbice River has been blocked with wire rope, preventing bauxite-laden barges from passing.
This publication understands that as a result of the blockages, the Russian company has lost millions already.
During a meeting with GBGWU and representatives of RUSAL, the company said it failed to recognise the Union. However, the Union and the company met with representatives of the Labour Department and recognition was given to the workers' union.
Even as the issues with the bauxite workers are being discussed, loggers in the area on Wednesday reached out to Guyana Times pointing out that they have been left in a quandary, as the current blockage of the waterway by dismissed workers and residents is having a negative impact on their operations and businesses.
For now, the loggers are not allowed to use the river and have been stranded for almost two weeks. One local sawmill owner from Canje, Berbice, Imtiaz Hoosein, explained to Guyana Times that while attention is being placed on the deadlock between RUSAL and its employees, consideration must be given to other stakeholders who are notably affected.