Oil and gas sector
As Guyana prepares for first oil early next year, there is still much more to be done locally for the country to be fully prepared for the impending oil and gas industry – something which long-time ally, United States, has committed to lend support on.
This re-commitment was offered by newly appointed US Ambassador to Guyana, Sarah-Ann Lynch, during her accreditation ceremony on Wednesday morning at the Ministry of the Presidency.
During brief remarks moments after submitting her credentials to President David Granger, Ambassador Lynch outlined that Guyana is embarking on a time of significant transition and growth, adding that she is excited to be here witness this transformation.
"Your nation is poised to become a regional leader with unprecedented opportunities. While there is many challenges still to overcome, we remain committed to collaboration with the Government and the people of Guyana to rise above those challenges and prepare for a brighter future. Together we can build upon the new economic opportunities developing here," she asserted.
According to the newly appointed diplomat, the US is further committed to supporting Guyana as it use its news found resource to: invest in infrastructure; increase bi-lateral trade; diversity the economy, and strengthen social services.
"At this moment of incredible potential, we must continue to rely on each other…," she insisted.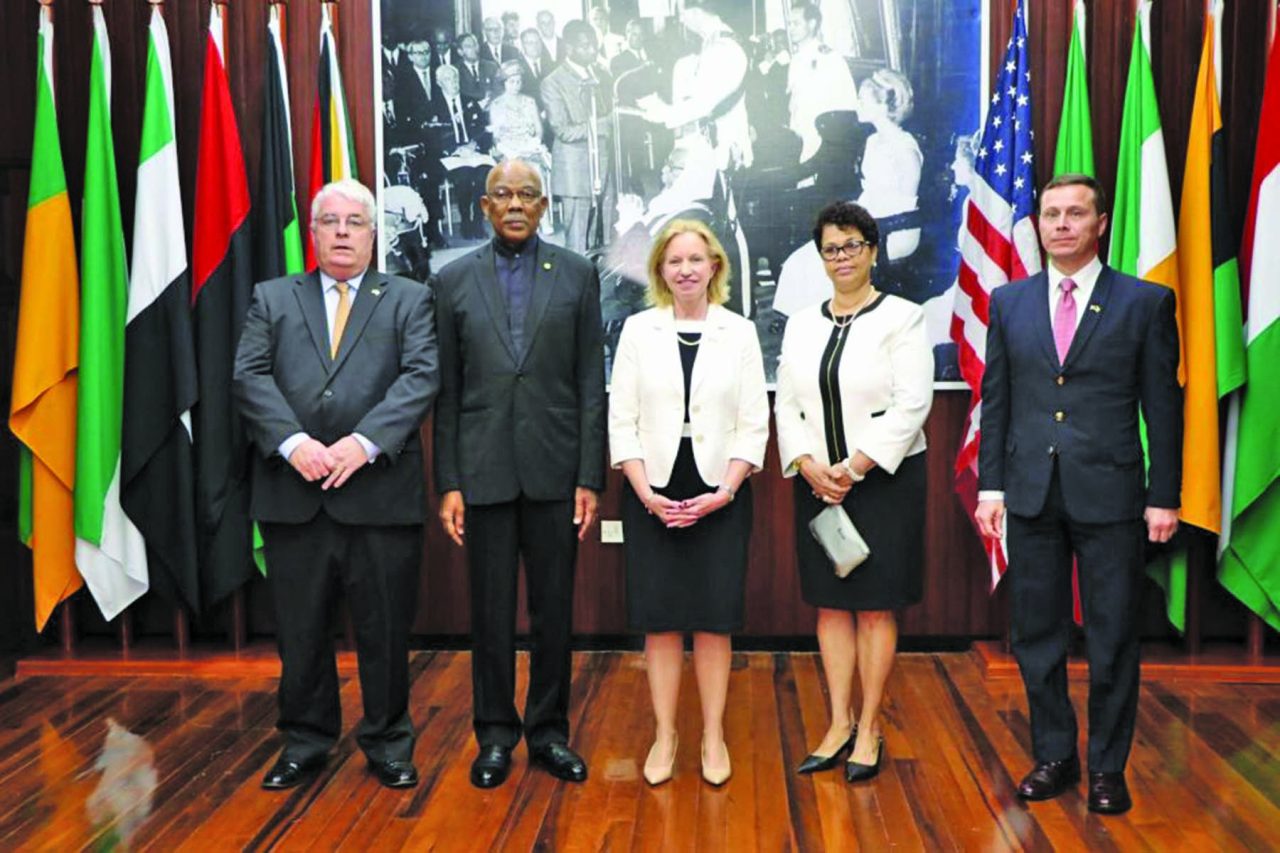 Guyana is now home to the world's biggest new deepwater oil discovery and with ExxonMobil keen on pushing the development of the oil reserves, the US oil giant is expected to commence production early next year with up to 120,000 barrels of oil per day at its Liza Phase 1 development.
Last week, the company disclosed that revised estimated gross recoverable resource from the Stabroek Block offshore Guyana has been pegged at approximately 5.5 billion oil-equivalent barrels.
This increase in recoverable oil includes the recent Tilapia-1 and Haimara-1 discoveries – Exxon's 11th and 12th finds in the Stabroek Block last month. These discoveries in the South-west section of the Stabroek Block reinforces the country's potential to be able to produce more than 750,000 barrels of oil daily by 2025.
Melting pot
During her presentation to the US Senate Committee on Foreign Relations back in December, Lynch referred to Guyana as a "melting pot of ethnic and religious diversity" as she pledged to further her government's agenda in supporting Guyana.
"This is a particularly momentous time for Guyana, a country the World Bank currently identifies as middle-income. However, the discovery of significant reserves of oil in recent years could alter the equation for this small nation. It is estimated that Guyana holds over four billion barrels (which has since been revised to 5.5 billion barrels) of offshore oil reserves, which could put it into the top 20 oil producing countries in the world," she said to the Senate Committee.
The newly appointed US had further emphasised that it is critical that the country not fall into the trap of the "resource curse" and look for opportunities to diversify its economy, improve its governance, and strengthen its civil society. To this end, she had committed to look for ways to build upon the work that Guyana has already done to chart a productive course for its future.
"We only have to look to Guyana's West – to Venezuela – to see how poor governance and corruption have destroyed what should be one of South America's most prosperous economies. Venezuelans are fleeing their country in droves, with thousands now entering neighbouring Guyana. While the Government and people of Guyana have been extremely generous in their assistance to the Venezuelan people, Guyanese systems could become overwhelmed. If confirmed, I pledge to work with the Government of Guyana to help them continue to look for ways to address this situation," she has outlined to the Senate Committee.
Ambassador Lynch was confirmed by the US Senate on January 2, and was sworn in on January 11 before her accreditation here in Guyana on Wednesday.
After accepting her Letter of Credence, President Granger noted that Guyana-US relations have cemented cooperation in the fields of commerce, defence, the economy, energy, public health, public security and youth empowerment.
"Guyana looks forward to the support of friendly states in its legitimate quest to protect itself against threats to its people, its economy and its territorial integrity and sovereignty. The preservation of regional peace and stability is vital to protecting our common interests. We welcome investment from foreign firms and will work towards ensuring a safe, stable and secure environment for investors," the Head of State posited.
Ambassador Lynch served until recently as the Acting Assistant Administrator for USAID's Bureau for Latin America and the Caribbean (LAC). She has also served as the Senior Deputy Assistant Administrator for LAC; USAID Mission Director in Iraq; and the Director of the Office of Iraq and Arabian Peninsula Affairs in USAID's Middle East Bureau.
A career member of the Senior Foreign Service, Ambassador Lynch has been with USAID since 1993, and served overseas in Bangladesh, Peru, Afghanistan and Iraq. In Washington, she has served in the regional bureaus of the Middle East, Asia, Latin America and the Caribbean, as well as the Bureau of Democracy, Conflict and Humanitarian Assistance, and the Office of Afghanistan and Pakistan Affairs (OAPA). She has received numerous awards, including USAID's Distinguished Honour Award, the Agency's highest performance award, for her service in Afghanistan and OAPA.
Before joining USAID, Ambassador Lynch worked in international relations and for a non-governmental organisation. She also served as a Peace Corps volunteer in Morocco where she taught English at the secondary level.