Vice President Dr Bharrat Jagdeo has stated that the Caribbean region needs to redirect the international assistance it receives towards capacity building for enterprises, and not at the state level, especially if countries want to increase exports.
He was at the time speaking at a plenary session during the recently concluded Agri Investment Forum and Expo, which was held in Guyana under the theme: "Investing in Vision 25 by 2025".
The Vice President pointed out that, too often, international help comes to the Government, building capacity in Ministers and other state agencies that do nothing for the advancement of businesses.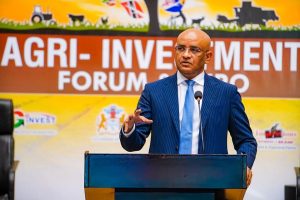 "We need to get the international help to build capacity at the enterprise level, not in Government Ministries and regulatory agencies that sometimes have very little to regulate, or sometimes themselves are humbug to development. We have to reorient our international assistance," he asserted.
According to Jagdeo, the success of such assistance to small enterprises was seen at the Agri Investment Expo held at the Arthur Chung Conference Center, where scores of local and international businesses were on display. He said he was amazed at the improved packaging of some products, which adds to their longevity and is excellent for marketing internationally.
The Vice President added that, in the furniture-making industry, there is a need for international designers to help Guyanese manufacturers to do better designs.
"This is the approach you have to take; almost a very hands-on approach… This can't be too big a task for [regional] Leaders," he contended.
Jagdeo's presentation was on "Addressing the key binding constraints to agriculture growth". He noted that there has been progress made with addressing some of these constraints in the region over the years, but there is still a long way to go.
However, he outlined that even if these are fixed, the Caribbean still has to grapple with the reality of the evolution of the global trade and development finance framework, which has not been favourable to small countries such as those in the region.
"We have seen a dedicated campaign to remove the preferences that were won and fought for since the GATT (General Agreement on Tariffs and Trade 1947) and then were part of the WTO (World Trade Organization). But there has been a systematic erosion of that, driven by the large countries, who say they want to help us. They will give us a small loan or small grant, maybe ten million dollars, but take away in trade preferences fifty million dollars," the VP stated, adding that this was seen in the sugar sector and in the banana industry.
Jagdeo, who served two terms as President of Guyana, and had started the region's food security agenda, further noted that Caribbean leaders need to recognise the conditions of trade for countries in the region when negotiating with the larger nations.
According to the VP, there cannot be competitive trading on a reciprocal basis between a Caribbean nation and the United States. This, he said, would result in the region being faced with additional burdens, like the cost of financing, and fragmented transportation systems, among others.
To this end, he called for a new outlook to negotiating international trade frameworks.
"We have to return to this issue of carving this international framework with a new zeal, and it has to be led by our leaders and our Ministers, going out there with a mission to ensure that that happens; because, if it does not, we have a lot of lip service to trading in the agricultural products, but then the framework will not be there for the exports," he stated.
However, while the Vice President recognised that it would take time to create new frameworks, he said countries in the region need to be practical in moving forward. Jagdeo said Guyana is already moving in this direction by focusing on specific products to export.
For instance, he pointed to the recent introduction of corn and soya crops for livestock feed. He said the Guyana Government worked with certain producers to explore these new crops, and there has been success.
"We went to people who produce poultry and worked with them to put in place right policies and fiscal concessions if they start producing the soya and the corn…and we built the road into the savannah… Now we're starting to see a massive growth as the industry is coming to its own," the VP said.
VP Jagdeo went on to urge regional Governments to do the same, and work with producers to develop a specific product that they would be able to get the export market for, while work is being done to secure a concrete trade framework.