The Western Tigers Football Club and their Guyana Police Force counterparts will engage in a fierce battle for the coveted title of champion when the 2nd annual Petra-organised Limacol Round-robin Knockout Football Tournament is staged this evening at the Georgetown Football Club (GFC) Ground at Bourda in Georgetown.
This publication spoke with both camps ahead of the all-important match, and each has expressed readiness to produce their best game yet.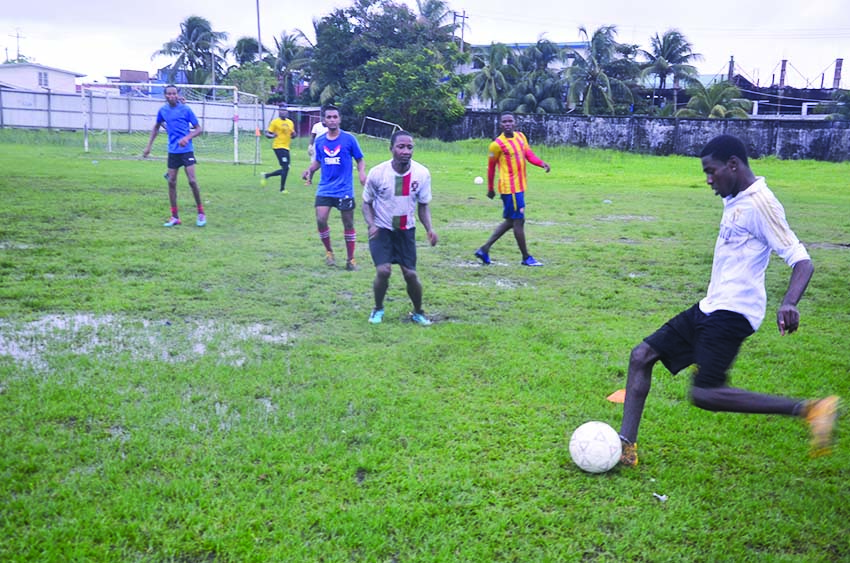 Coach of the Western Tigers, Calvin Allen, feels his team's preparation is going well and that the players are upbeat about the match. "We have been getting the turnout from the guys. They have been going through their paces, (and) I'm quite satisfied with the effort from everyone. The weather is a bit disheartening, but we got to work with it; (it is a bit) out-of-control, but the guys are in good spirits," Allen revealed.
This is the third time that this West Ruimveldt, Georgetown team would be participating in a final match of this tournament, and the coach is hoping that the team emerges victorious against a formidable attack. He explained, "The guys are very enthusiastic about the championship. We went to two finals, lost one and won one; so (there is) not much to brag about. So I think we need this one. The team we are playing against has been a difficult opponent for us over the past couple of games, and we need to set that straight".
With an array of talented city players at his disposal, the experienced coach is not looking for one individual to make the difference, but is expecting a collective team effort. "We don't look to the names or individuals; we try to do it as a collective unit. We had defenders getting goals (in previous matches). We play as a unit; and once everyone sticks to their roles, we will play well", Allen posited. Allen is anticipating enormous crowd support, which he said would be for a good game of football; but he sees the match being tilted in his team's favour.
VERSATILITY
On the other hand, with their versatility the lawmen can match the Tigers; and Coach Dwayne Bobb feels their victory over the opposition in a previous final can have a positive psychological effect on his team. He declared: "That (psychological effect) can play a very important role, because they (Western Tigers) will be coming knowing that Police have already defeated them, and it is a possibility that it can happen again".
Expressing sentiments that are similar to Allen's, Bobb said he also would be looking for a collective team effort, and expects his experienced players to have a greater impact on the game.
The coach explained, "I always tell my players (that) names don't play football; who wants (the win) the most can achieve (it). We know they have a lot of experienced players, but I boost my guys, and we train hard and prepare for anything that comes along". He added, "Quincy Holder, Junior Gordon, Dwain Jacobs and some others do well in the practice, but in games they play shy; so I'm trying to get (these) guys to play to their best".
Bobb feels that once the team continues to play organized and disciplined football, his talented bunch of players would prevail against the opposition. Meanwhile, Co-director of the Petra Organization, Troy Mendonca, feels there is no doubt that the two teams in the final (Police and Western Tigers) are the two best teams in the competition; and this with all due respect to the two other teams (Santos and Winners Connection) competing for the third place position. He declared, "We think everyone enjoyed this tournament. It served as a breath of fresh air in the sport. The format is all-inclusive, it lends for a very competitive atmosphere and a spread of the remuneration among all the teams. We are happy, and (are) looking forward (to witnessing) an exciting final (match) and continued support".
Mendonca has expressed gratitude to the Guyana Football Federation (GFF), the competition sponsors, teams, and all other parties involved in the event for the support received. This final match will commence at 21:00 hrs, while Winners Connection and Santos will do battle in the third place play-off from 19:00 hrs. The winner of this event will pocket $500,000 and a trophy, while the second, third and fourth placed teams will receive $300,000, $200,000 and $100,000 respectively and the corresponding accolade. To date, Banks DIH Limited under the GT Beer Brand; Trophy Stall and Star Party Rentals are the other companies that have thrown their support behind the championship.
Admission is $500.