…refuses to comment on Narine's exclusion
Fresh out of the Indian Premier League (IPL) and now in the West Indies team bubble, Captain Kieron Pollard fielded a number of tough questions from media operatives on Tuesday morning during a press engagement.
In discussing the challenges that West Indies face leading up to the T20 World Cup, non-inclusion of certain players, and the IPL's influence, the West Indies men's captain was ultimately sure about one thing: the team will it 100% in their quest for a third T20 World Cup title.
One of those questions was a request for his message to the West Indian fans, in which the captain promised that the squad would give their best in the global tournament.
"My message to the Caribbean supporters I think is simple. 'Come and support the West Indies team'. A lot of guys are looking forward to this World Cup, they haven't played a T20 World Cup since 2016. We're the defending champions, and I think we have a very, very good team, in terms of experience. We have a couple young guys and guys who are looking forward to make their name in T20 cricket," Skipper Pollard has said.
He continued by vowing, "So, rally behind us, that's the most that we can ask as cricketers, 'cause we know that we're going to give 100%. Just like everybody else, we have sacrificed a lot and given a lot to be in this position, and when we go out there, we're going to play for that personal pride," he said.
According to Pollard, the 'Men in Maroon' have had a lot of game time prior to the tournament, and for this, he does not see any challenges heading into the event.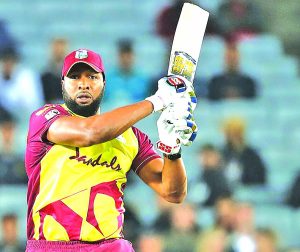 Pollard shared, "To be honest, for me personally, I wouldn't say it was challenging. We got the opportunity to play some sort of cricket as a team and get to understand ourselves as individuals and as a team a lot more. So, maybe the results in the series look great, but we got a lot of information from that block of matches, the home series there, and guys going in the CPL playing for their various franchises now getting the opportunity to play IPL.
"So, I don't think it was challenging, it's just a matter of getting back together and pulling out the notebooks as to what we need to do as a team, rather than individuals who're playing for franchises recently."
One such preparatory outing was the IPL, where a number of West Indian players featured. Based on the pitches in the United Arab Emirates (UAE), which will be used for the World Cup, Pollard shared his keys on retaining the title.
"I think we need to be good in all three facets of the game. I think the pitches in Dubai, Abu Dhabi and Sharjah all give something different, and it's not going to be the same game plan throughout the three surfaces. So, we need to be smart, we need to play smart cricket, sometimes play the conditions and have the right person at the right time, in order to get that job done," the West Indies captain divulged.
"It's a bit tricky, but the good thing is majority of our squad would've gotten the opportunity to be in the UAE. Some would've gotten some game time, some would not have, but we'll just try to work it out and see how best we could formulate the best game plan."
Similarly to Head Coach Phil Simmons, Pollard received many queries about Andre Russell's questionable fitness, to which the West Indian skipper answered that it's still too early to make a pronouncement.
Russell picked up a hamstring injury on September 26th while saving a boundary, and his injury has since been updated to a grade 2 injury.
"Before I make any assumptions on what he can or he can't do, I think we need to make an assessment. First, as a team, we haven't had the opportunity to see him, we've gotten reports as to what he has done, and I wouldn't want to get into trying to say what he can or he can't do at this point in time," Pollard explained.
He added, "He's a critical person for our team, and we would love him to be a 100%, but we have to deal with what's in front of us, and let's see what happens over the next couple days. But we're looking forward to having a fit Andre Russell, if possible."
While the captain spoke at length about various topics, one he refused to comment on is the non-inclusion of an in-form Sunil Narine. In the 12 matches Narine has played for the Kolkata Knight Riders this year, he has picked up 14 wickets at an average of 22.0, economy 6.41 and best figures of 4-21.
However, Pollard has said he is tight-lipped on Narine's position, so the narrative can't be twisted.
"If I add my two cents or my word in how his non-inclusion came about, then it could be spun, just like how he's bowling well on these Sharjah wickets in all different directions, so, for me personally, let's deal with these 15 guys that we have here, which is more important, and see if we can rally around these guys, and see if we can defend a title," the West Indian white ball leader reasoned.
West Indies will officially begin their title defense on October 23 against England, whom they defeated in the 2016 final to win their second title. the T20 World Cup will commence on October 17 in Oman, where a preliminary qualifying round will be staged.