…as numerous projects left uncompleted
Former Education Minister Nicolette Henry came under fire on Thursday from her successor Priya Manickand, after she was called out for the coalition's failures at several initiatives during their time in office.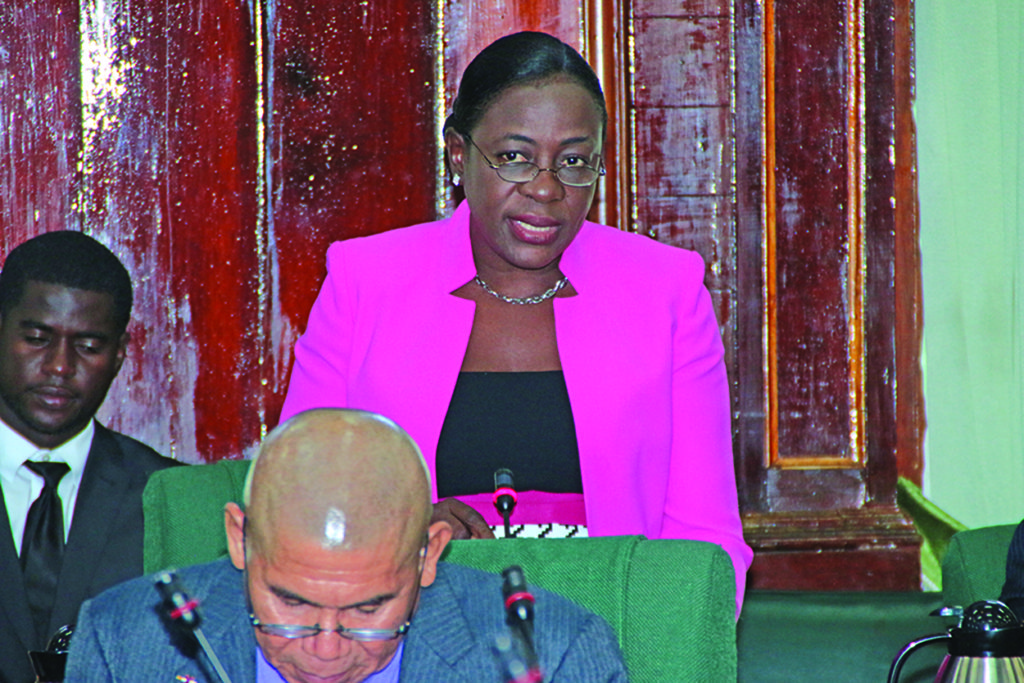 Henry opened the budget debate on Thursday at the Arthur Chung Conference Centre by demanding credit for the work done by the APNU/AFC, noting that they had hit high achievements.
"It is the fact, and I can tell you that a lot was achieved during the coalition's term in office. I can tell you that it took a lot of work to get that done," she contended.
These claims were immediately debunked by Manickchand, who factchecked that the former Government failed to deliver and complete numerous projects that were earmarked to develop education delivery.
One such is the ProFuturo project – a programme launched in 2016 with the aim of closing the education gap in the world by providing quality digital education for children in vulnerable environments. Construction at several schools, including Westminster Secondary and St Roses High School, were left incomplete. In some cases, the contracts were terminated.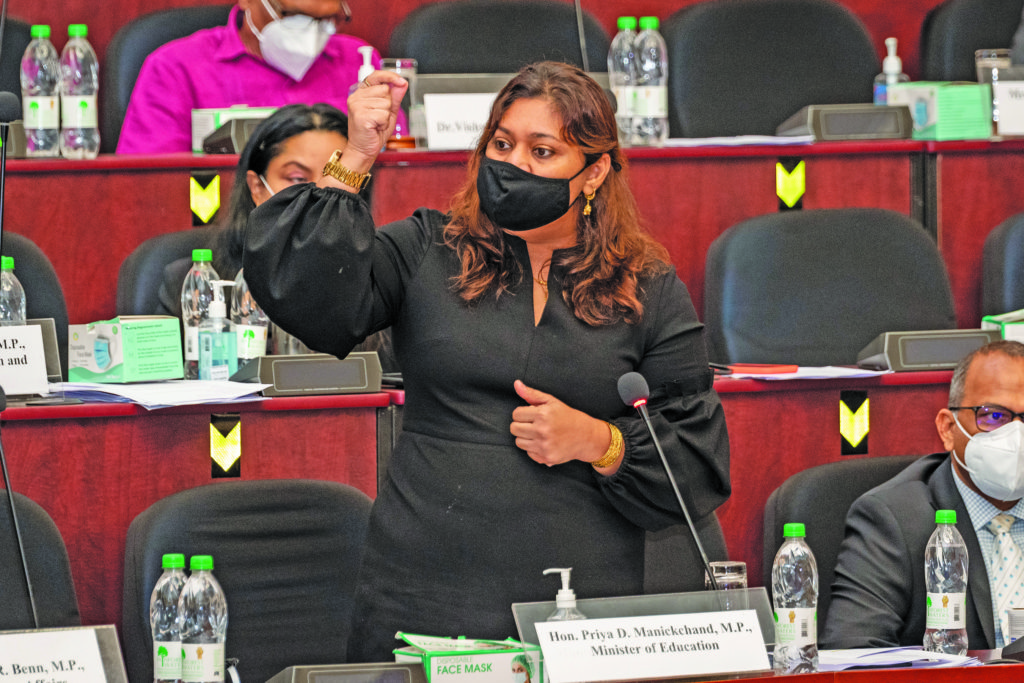 There is also the recent revelation that smart classrooms were never established at the 11 locations at which they were touted to be.
Even with these revelations, the Minister said, the coalition is still blinded in their web of 'untruths' which they continue to promulgate in Parliament.
"The APNU/AFC's problem was just that they're fancy talkers, sensational talk. Everything just sounds right. That's how they rode into office. Their problem is they cannot deliver…Understand that that is your weakness and try to correct it…We come back here and we're insisting that the smart classrooms exist and that is the epitome of what we see playing out here. Untruths that they believe themselves. The problem is that the people don't believe it," she asserted.
In fact, Manickchand told the House that the PPP/C Government will ensure that these projects are completed for the greater benefit of students. She said senior officers, including Chief Education Officer Marcel Hutson, are back on the job, contributing to greater success.
"These people are back on the staff, and that's why all those projects that you started, we're rolling them out now. You couldn't get it done, and that's the problem…This budget demonstrates very clearly a difference in style, philosophy, ideology between the two parties."
Meanwhile, Henry was also chided for failing to create a comprehensive plan during the COVID-19 pandemic after schools were closed. It was highlighted that during the 143 days, there was little to no activities to engage children in the school system.
At the end of this same period, Manickchand shared her accomplishments as she highlighted, "We had done worksheets. We have employed the Learning Channel towards learning. We had reopened schools for the exam classes. We put instructions on the radio. We started online teaching. All of these fancy plans that the Honourable Member says she had, she was in place for the same time that we were in place, but didn't put in place. It is important that we don't buy into those lies," the subject Minister underscored.
Upcoming plans
Government's commitment to develop the education sector is reflected in the 2021 budgetary allocation – a whopping $60.7 billion to build a world-class system. It is the largest allocation that was set aside.
Speaking about the plans for education, references were made to the reinstatement and increase of the 'Because We Care' cash grants from $10,000 to $15,000 – which will see an incremental increase up to $50,000 over the next five years.
The budget caters for an expansion of the Guyana Learning Channel to offer six channels, reaching every single indigenous community.
"We are giving to the villages television sets, solar systems, electricity and the satellite. The PPP/C Government is doing that. When we talk about equity, it cannot just be talk. It has to be something we do that is tangible…We're also getting our own radio station so that we can dedicate radio to learning. In some places in the country, radio is the only thing some people get," she added.
The Dr Irfaan Ali-led Administration is improving its pandemic preparedness with the provision of PPEs for all students and teachers, and to retrofit all schools with troughs, sinks and water systems to provide a safe learning environment across all levels.
Overall, an amount of $5.2B has been allocated for construction, rehabilitation and maintenance of educational facilities countrywide. Expansion will commence with two secondary schools, in Regions Six (East Berbice-Corentyne) and Nine (Upper Takutu-Upper Essequibo). Works will begin on a secondary school at Prospect to address the growing demands on the East Bank of Demerara, while Abram Zuil Secondary School will be reconstructed to provide necessary facilities for learners on the Essequibo Coast.
UG/CPCE
With intentions to transform the Cyril Potter College of Education to a fully online-compatible modality, Guyana has seen its largest enrollment of trainees this year, despite a pandemic.
"We saw, and we continue to see, remarkable interest, so much so that we are going to have the most trainee teachers enrolled this year in COVID. When other countries are shutting down, five years from now, Guyana is going to be spitting out the most trained teachers in this country because, during COVID, we innovated and came up with a plan."
The University of Guyana will also be refashioned to better respond to the needs of a modern Guyana. Budget 2021 provides a total of $3.3B to finance the operations of its two campuses to achieve just that. A sum of $1B was also budgeted to support online scholarships to be granted in 2021. (G12)