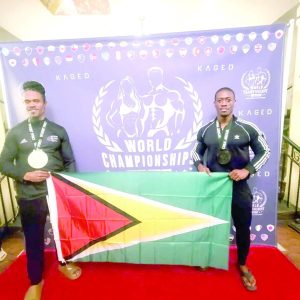 The 2022 INBF WNBF World Championships were held on November 19, 2022 at the Warner Grand Theater in San Pedro, California, and athletes from over 45 affiliated countries battled in the Amateur & Pro Worlds.
Guyana's very own Rawle Green secured gold in the Masters category, while his countryman Kerwin Clarke came in 4th in the Men's Open Middle weight category.
In a statement Green issued upon gaining gold at the competition, he said, "It is always a good feeling to get gold. The other competitor was from the USA. It was nothing new leading up the worlds; I would have competed with the other guys. For me, next is to see what next year brings. Thanks to my posing coach, training partner, family, clients and friends."
Clarke also issued a statement; he said, "The experience was a wealthy one for me to know how strategic my implementations would be going forward. It was breathtaking, and certainly the kind of test I embrace for myself competitively."
In terms of where he fell short, Clarke explained that re-acclimatising was a major deficit, as he experienced cramps several times before and during rigorous comparisons. While he had not gotten the results he had wanted, he clarified that the experience and thirst and hunger to collect that top spot was one positive he took away, and he is very thankful to have made his debut against seasoned campaigners.
Clarke is thanking his sponsors for embracing his craft and consistency of progress within the disciplined sport of Bodybuilding. "Much gratitude is extended to: Fitness Express, Fitness53, Space Gym, The Guyana Olympic House Association, W.J Enterprise, It's our Life YouTube channel, Max Accounting and Consultancy Services, Travellers Sounds, NeuroSpine Inc. Champfitness", Clarke shared.