…314 cases recorded in 1 week
A whopping 314 COVID-19 cases were recorded over the course of this week – 79 of which were detected on Saturday.
The statistics provided by the Health Ministry showed that new cases emerged from 482 swab samples. To date, there are 7222 confirmed cases in the country.
Apart from the 170 deaths, there are seven patients in the designated Intensive Care Unit with 33 persons in institutional isolation, 651 in home isolation and 21 in institutional quarantine.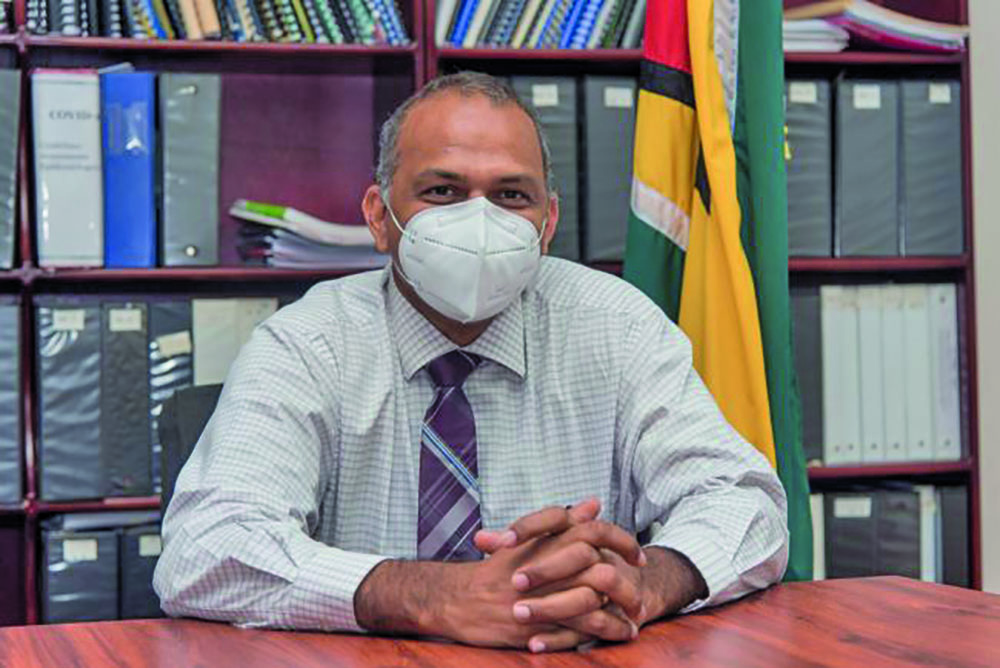 From the 3703 males and 3519 females that contracted the virus thus far, 6361 have completely recovered. Consequently, there are 691 active cases remaining. Guyana has managed to test 46,347 people since the virus was detected locally.
A breakdown showed that new cases were recorded in nine administrative regions; with six in Region One (Barima-Waini), three in Region Two (Pomeroon-Supenaam), nine in Region Three (Essequibo Islands-West Demerara), 40 in Region Four (Demerara-Mahaica), five in Region Five (Mahaica-Berbice), four in Region Six (East Berbice-Corentyne), three in Region Seven (Cuyuni-Mazaruni), two in Region Eight (Potaro-Siparuni) and seven in Region 10 (Upper Demerara-Berbice).
The cases in Region Nine (Upper Takutu-Upper Essequibo) remain at 409.
Guyanese have been asked continuously to follow the outlined national measures, which were implemented by Government to curtail widespread infection. It is especially important until a vaccine is introduced locally.
On Friday, Health Minister Dr Frank Anthony cautioned that the novel coronavirus does not affect everyone equally. While some may experience little to no symptoms, others contract the worse form of the virus that lingers months after recovery.
He explained that the symptoms would remain for months for some persons because the virus would have disrupted body organs. Data shows that the infection can affect the brain, digestive system, respiratory system, kidneys and skin.
The World Health Organisation has also pointed out, "For some people, some symptoms may linger or recur for weeks or months following initial recovery. This can also happen in people with mild disease. People are not infectious to others during this time. Some patients develop medical complications that may have lasting health effects."
Additionally, older persons have been succumbing to the virus since comorbidities increase the risk of developing a worse form of the virus. Persons in this bracket have been asked to continue taking their respective medications or treatment to control their condition. Next, the preventative measures and guidelines to protect against the virus must be adhered to.
Symptoms of the coronavirus include fever, cough, tiredness, diarrhoea, pains, sore throat and loss of taste or smell. The more serious symptoms are difficulty breathing or shortness of breath, chest pain and loss of speech or movement. If persons are experiencing symptoms or have been in contact with a positive person, they are asked to contact the COVID-19 Hotline 231-1166, 226-7480 or 624-6674 immediately or visit www.health.gov.gy.
The latest announcement on vaccines was announced a few days ago, in which the global procurement mechanism, COVAX, specified that two billion doses will finally be procured for distribution. Once acquired, they are working to have it distributed by the second quarter of 2021.
Guyana will receive 20 per cent of the total vaccines needed through this mechanism, which will be used to immunise frontline health workers followed by the elderly and persons with comorbidities. Government is also seeking other channels to procure additional vaccines, as preparations continue to equip vaccine storage facilities. A COVID-19 vaccination programme is also being developed. (G12)