Region 2 flooding
A poultry farmer of Abram Zuil village on the Essequibo Coast, Region Two (Pomeroon-Supenaam) is counting thousands of dollars in losses as his poultry pens are still submerged in approximately eight inches of water. Kishan Lall, a father of one, said the flood has resulted in his business facing tremendous losses and explained that he is "clueless" as to what his next move will be. The farmer entered the new year with much optimism to turn his profits from the Christmas holidays into tangible investments, but is prevented from doing so due to severe flooding.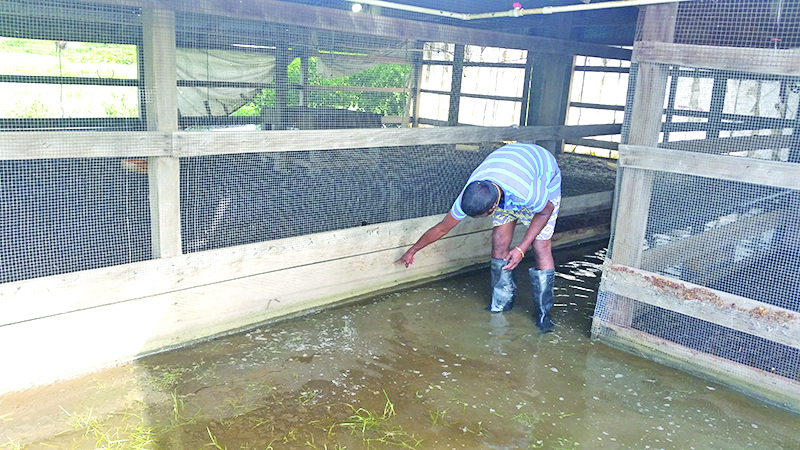 Instead, he now has to incur additional expenses to conduct emergency works to raise his poultry pens. More money, he noted, has to be spent to clean and disinfect the flood affected areas before he can step on his feet again. This, he said, would require him to take a loan since he does not have the full finances to conduct the additional works on his business.
The poultry farmer, who started his business some four years ago, attested that this is the worst flooding he has experienced since he first established his business. Lall said his chicken pens and its environs have been under water for almost four days. When asked what may have contributed to the severe damages to his business, Lall said the excessive intrusion of water overtopping from the Annandale conservancy.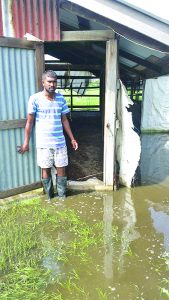 "This water is not from the rainfall, it is pure black water as you can see that are on the land, it is because of the overtopping of the canal that has resulted into widespread flooding," Lall said.
The farmer said that he has lost approximately 192 grown chickens to the flooding. This, he said, has caused tremendous pressure on his business and now he cannot re-invest his profits.
Lall said that the kokers in the Abram Zuil area require attention so as to alleviate flooding. Lall is therefore calling on the regional administration or the Agriculture Ministry to assist him in restarting his livelihood after the flooding.
Several other residents in the area remain under water. When Guyana Times visited the area, an excavator was seen clearing trenches. The Unu Creek relief has been opened to assist in draining water off the lands. (Indrawattie Natram)