…calls reiterated for halting of H2H Registration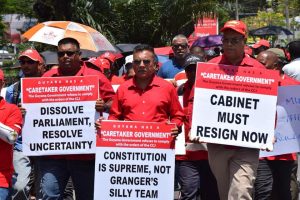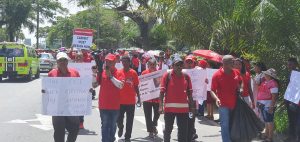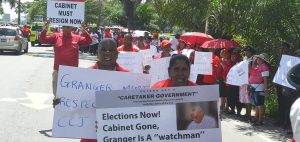 A large group of People's Progressive Party/ Civic (PPP/C) supporters, including the party's Presidential Candidate, Irfaan Ali, and several senior members of the party braved the heat on Wednesday as they protested on Vlissengen Road, Georgetown, demanding that the President and his Cabinet resign and announce a date for elections — as is constitutionally mandated. The protesters also reiterated calls for the halting of the illegal House-to-House Registration (H2H).
The protest was held outside of the Ministry of the Presidency, Vlissengen Road, Georgetown, and attracted scores of PPP/C supporters from all across Guyana, who were displaying the party's colours, waving placards and shouting various slogans— including "Granger must go" and "Call elections now" – all in an effort to reiterate that elections should be held in keeping with the Constitution of Guyana and the ruling of the Caribbean Court of Justice (CCJ).
PPP/C's Presidential Candidate Irfaan Ali and former Prime Minister Samuel Hinds, along with a number of senior party officials, were present at the picketing line.
During brief interviews with Guyana Times, these party members expressed similar views as they called for Government to act in accordance with the law. The Opposition's Presidential Candidate has disclosed that because the elections are being continuously delayed, more and more Guyanese are becoming impatient, hence, the number of protesters would increase.
"Once again, the people of Guyana are out here in defence of our Constitution, in defence to the rule of law and standing up for democracy…week after week the numbers are growing, more people are becoming impatient, businesses are becoming impatient and all of this is happening because the country is uneasy….the President and the Government must resign now, they must dissolve Parliament now and they must call the elections," Ali said.
Meanwhile, Hinds warned that more protests will be underway if elections are not in line with the September deadline.
"We're calling on our President to comply with our Constitution, comply with the CCJ ruling, call elections now, set a date for elections. We demand that GECOM comes inline, meets that date, and the date we should be thinking of now is September 18," Hinds expressed.
Only last week, the PPP/C supporters organised a massive countrywide protest where supporters in every administrative region picketed offices of the Guyana Elections Commission (GECOM), demanding that they scrap the House-to-House Registration exercise and begin preparing for elections to be held no later than September 18.