The archaic network of Guyana's sea defence structure along the coastland, which has led to severe overtopping, will be replaced with the injection of over $3.8 billion in works for 2019.
This is according to Chief Sea and River Defence Officer, Kevin Samad, who told Guyana Times that there are a series of projects which will unfold throughout the year to ensure that the coastland is protected from breaches.
Through the Nationally Funded Capital Programme, $1.4 billion was made available for works along with some $548 million for the Maintenance Programme. A loan was also granted from the Caribbean Development Bank (CDB) which has been divided into several projects.
"For the Nationally Funded Capital Programme, there was an allocation of $1.4 billion. For the Maintenance Programme, there was a budgeted allocation of $548 million. In addition to that, there is a foreign funded project where a loan was taken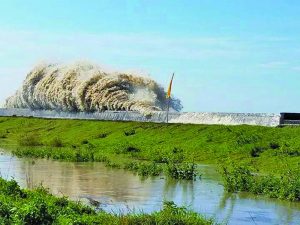 from the CDB and for this year, the budgeted allocation is $1.950 billion. The total sea defence budget for 2019 is $3.898 billion," he said.
Overtopping
While addressing areas that have faced overtopping, Samad stated that these areas constitute of concrete structures which are almost 50 years old. As such, the mandate is to replace these with riprap structure, which can be extended if the need arises.
"The areas where we are having the overtopping is the areas where we have the old concrete sea defence structures. All of them have outlived their designed life. They probably more than 50 years old. The recent works are areas where we have adapted the rip-rap which is the boulders structure, so all the new areas will have that."
Almost one year ago, the West Coast of Demerara sea defence suffedred several breaches along the structure, which caused major flooding in several villages. As such, projects were awarded and will be executed in the near future. He reiterated that most of the sea defence rehabilitation is done in Region Three (Essequibo Islands-West Demerara).
For Leonora, West Coast Demerara, a contract was awarded to the sum of $175 million to address a gap of 325 meters. Works are ongoing and are 20 per cent completed.
Meanwhile at Uitvlugt, a sum of $130 million was allocated to address 250 meters of sea defence. The contractors are mobilising materials and the works are likely to commence in two weeks.
For Stewartville, $107 million was awarded for 200 meters of work. No works have commenced to date as materials are now being acquired.
For De Willem, 250 meters of work was completed in September of 2018. There will be a continuation of works for another 200 meters at a cost of $107 million. At Anna Catherina, two projects were tendered at $104 million and $106 million, which will be executed simultaneously.
Other areas for rehabilitation includes Blankenburg, Windsor Forest, La Jalousie and Cornelia Ida.
At Crane, funds from the CDB loan will be used for a sea and river resilience project. Under the $1 billion loan, several projects will be completed under the programme for 1200 meters of riprap structure.