NSC honours athletes who participated in Special Olympics…
By Timothy Jaikarran
Team Guyana represented the nation in the 2019 Special Olympics held in Abu Dhabi from March 8-22, 2019, and Guyana walked away with three silver and two bronze medals respectively. As such, Team Guyana were rewarded for their efforts yesterday at a simple ceremony held at the Racquet Center on Woolford Avenue.
Opening the ceremony, Director of Sports, Christopher Jones, recognized the athletes, main sponsor Digicel, and the Permanent Secretary in the Department of Social Cohesion, Melissa Tucker, as he applauded them for their hard work in making this event a success.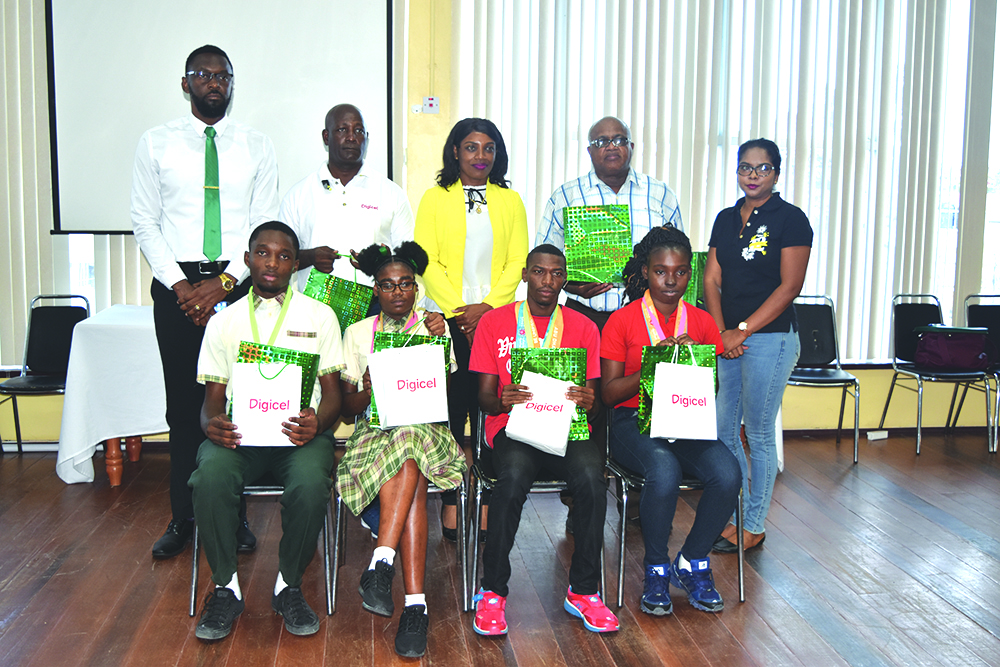 Digicel Guyana's Communication Manager Vidya Sanichara congratulated the athletes for their impeccable performance, and went on to relay that Digicel is very pleased to be the sponsor of such an event, and is very pleased to give back to the athletes.
Permanent Secretary in the Department of Social Cohesion, Melissa Tucker, said, "The passion, drive and determination of our athletes is unmistakable. We are so proud of the accomplishments of Team Guyana. It is important to mention (that) in the area of athletics, specifically the 400m event, three silver medals were captured; in the 4x400m, four bronze medals were captured, and one bronze medal was achieved in the 5000m event for a total of 8 medals. To this end, the Government has contributed a sum of 2 million dollars towards Team Guyana's participation at the Special Olympics. This is a testament of our pledge to invest in our athletes and help realize their dream to one day represent the Golden Arrowhead. I offer my warmest congratulations to the young team on your achievements in getting where you are today. I wish you all the very best for every success in your future".
Thereafter, the competing athletes and coaches were presented with medals of achievement by the National Sports Commission (NSC). Securing medals for Guyana were Faith King, Abdullah Brathwaite and Dacia George, who got a silver each in separate 400m events; Calvin Thomas, who got a bronze in the 5000m and Team Guyana's winning bronze in the 4x400m.
At the culmination of the ceremony, Jones stated that all the athletes, chaperones and coaches will enjoy an all-expense-paid trip, a one-day tour, as they will have lunch at Aruwai Resort and participate in recreational activities. They will also be able to visit White falls, Bartica, Fort Island and many other places.