CONCACAF U-20 Championship Qualifiers…
On a day of mixed fortunes for Guyana, the male and female under-20 football teams contesting the CONCACAF U20 Championship Qualifiers went into action on Sunday and emerged with contrasting results.
Heartbreak was personalised for the Male Junior Jaguars, as they conceded a loss to hosts Nicaragua following wins against Montserrat, St Vincent and the Grenadines, and the U.S. Virgin Islands.
The Male Junior Jaguars were in a good position to finish on top of 'Group A', even though they were cognizant of the fact that Nicaragua were a solid team and were capitalizing on their home advantage. However, a red card infraction put the Guyanese team at a disadvantage early in the encounter, and a tight defense restricted the Guyanese boys against the eventual group winners.
The first half ended in a stalemate, but Nicaragua were quick to earn a goal after play resumed in the second half, as Ezequiel Ugalde found the back of the net in the 49th minute to give them the win.
Despite the loss, however, the Guyanese boys finished their qualification round in second position in their group, with 9 points to their credit.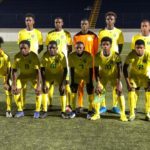 Their Lady Jags counterparts also opened their Under-20 Championship campaign against Nicaragua on Sunday at the Estadio Olimpico Felix Sanchez in Santo Domingo. However, the Lady Jags downed Nicaragua 3-1, as they took the lead by way of an Aubrey Narine goal in the 19th minute, and held on to same until the second half of play, when Jade Vyfhuis pushed the score to 2-0 in the 49th minute.
Serena Mc Donald later pierced the nets in the 62nd minute to give Guyana a three-goal lead. And although Nicaragua attempted to spur a comeback following their consolation goal which was netted by Jaclyn Gilday in the 64th minute, the Guyanese defense would have none of it, and held on for a 3-1 victory.
The Lady Jags will continue their campaign today, Tuesday February 25, against Puerto Rico at the same venue from 16:00hrs.