Agricultural land development
Agriculture Minister Noel Holder has provided an update on the Region Four (Demerara-Mahaica) and Five (Mahaica-Berbice) villages that are benefitting from a US$3.81 million grant, which was awarded late last year to facilitate infrastructural improvement in targeted small-scale farming communities.
Guyana Times was told of some "60 acres" of land that was being cleared in the Buxton, East Coast Demerara (ECD) backlands to facilitate farming.
In an interview with this publication on Saturday, the Agriculture Minister related that the first phase of the agricultural land development project was underway in the specified villages of: Mocha Arcadia, East Bank Demerara (EBD); Beterverwagting (BV)/Triumph, and Buxton, ECD, and Ithaca, West Coast Berbice (WCB). These were seen as having been "neglected" over time.
"Things are going ahead…the [lands] are being prepared, the bids have been awarded, the first of the funds have come down, it's on stream," Minister Holder told this newspaper.
He noted that the project would span four years and 2500 acres of land in the villages would benefit.
While not directly commenting on how these lands would be allocated when the question was posed, Minister Holder did remark that several sub-agencies of the Ministry were working together to assist some 1200 farmers from the various communities.
"NAREI (National Agricultural Research and Extension institute) is involved helping with extension services. Guyana Marketing Corporation (GMC) is involved from the point of view of what can be marketed; GLDA (Guyana Livestock Development Authority) is also involved and farmers," he stated.
Minister Holder further explained that the National Drainage and Irrigation Authority (NDIA) was assisting the communities to ensure that pump stations were operational. He also indicated that while the majority of the funding would come from the multimillion-dollar grant, some 20 per cent of public funds would be sourced to facilitate such services as local staffing.
"Normally, [such projects] use a small amount of public funds. About 80 per cent of the money is acquired from foreign funds," the Agriculture Minister highlighted.
The overall multimillion-dollar programme is aimed at reviving the communities' agricultural production to supply local and Caribbean markets. In December 2016, the Caricom Development Fund (CDF) approved the overall US$6.63 million loan and the US$3.81 million grant. At the signing of the two agreements which were done at the Finance Ministry last year, CDF Chief Executive Officer (CEO) Rodinald Soomer had explained that the programme would see significant improvements in the agricultural infrastructure of the communities, which, according to him, were "left un-cultivated, under-cultivated and under-developed due to inadequate access and poor drainage and irrigation".
He noted that the money was a concessional assistance to Guyana for "… the purchase of farming equipment that will remain resident in identified communities, to finance land clearing; to restore and upgrade drainage and irrigation canals and install a pump in the specified farming communities, as well as provide technical support for targeted farmers."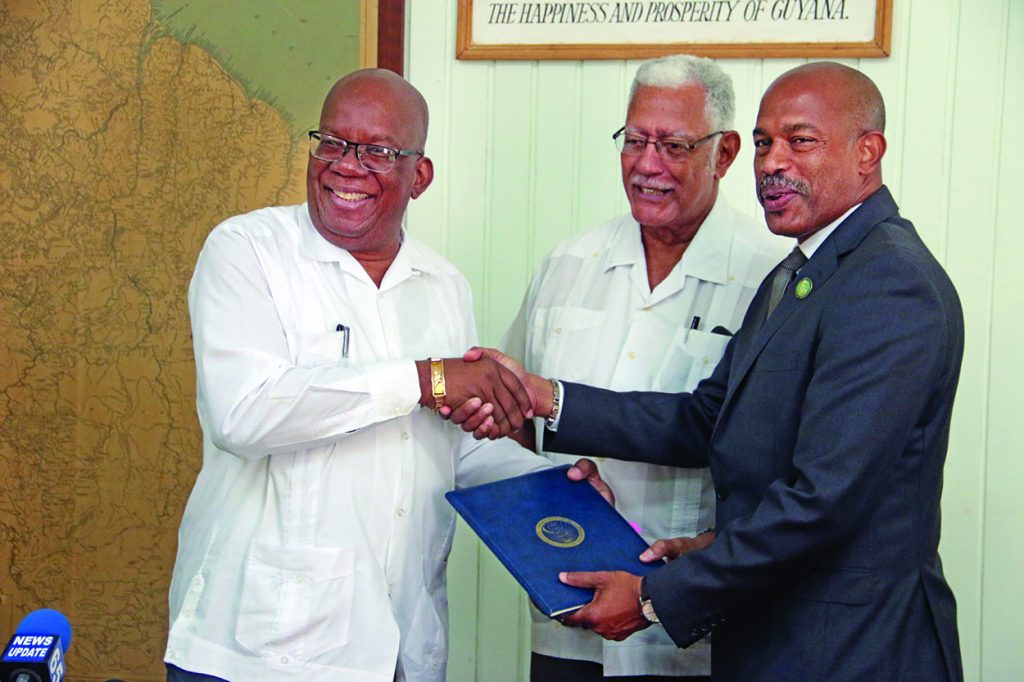 Finance Minister Winston Jordan had outlined that the "neglected" villages had a combined total of 1200 farmers and it was expected that some 35,000 persons would benefit from the programme.
The Agriculture Minister had pointed out that the communities would develop agriculturally and economically.
"It is anticipated that with the improved drainage systems and access, the new farmlands will be brought under cultivation with a variety of crops and fruits being targets for production to meet the needs of the community and surrounding villages, nationally and with an eye on exports. More importantly, this intervention will result in increased income and reduced unemployment in the targeted communities," Holder posited.
This project comes under the Guyana Country Assistance Programme presented to the CDF and was approved within the regional organisation's thematic priority of improving existing infrastructure and promoting investment.
Guyana had previously benefited from US$11.8 million financing from the CDF for the upgrading of farm access roads in Regions Three (Essequibo Islands-West Demerara); Four and Five (Mahaica-Berbice). The CDF provides technical assistance to countries, regions and sectors in Caricom to enhance their prospects for successful competition within the Community, and to redress any negative impact of the establishment of the Caricom Single Market and Economy.