The Housing and Water Ministry has signed a Memorandum of Understanding (MoU) with Republic Bank Limited for the construction of 500 low-income homes on the West Coast of Demerara.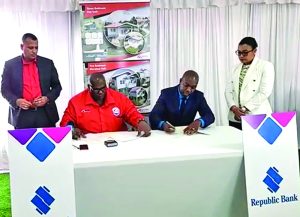 Through the Central Housing and Planning Authority (CH&PA), the framework was signed during the International Building Expo at the National Stadium on Saturday. This financing will cover the construction of homes at Leonora, WCD.
Construction works will be executed by pre-qualified contractors. The approximate cost for each housing unit is $5.5 million.
Commenting on this initiative, Housing Minister Collin Croal said, "This is part of what it means about partnership, what it means about development and what is also means to the lives of our citizens of making it much more affordable for them so that we can all achieve this 'One Guyana' dream, which includes owning your own home," he stated.
The low-income homes are in high demand in Guyana, Croal said. He further noted that such mechanisms allow to not just own a lot, but also fast-track the construction process so persons can move into their new homes.
"With more lending institutions coming on stream, we can see us realising our fulfilment, in hoping we can do at least 22,000 within this three years period. This helps with the local economy, employment in the region, the supply chain for various hardware suppliers, the transportation sector. Everyone benefits. It has a ripple effect when we deal with construction," Croal posited.
He further disclosed that construction on the first 100 low-income homes will commence as soon as next week.
"This collaboration starts immediately. In fact, in the new week, one can see the commencement of the tying of the steel for the foundation work to commence the construction of these 500 houses. The first hundred houses will commence next."
"All across this country and all across the regions, we have a number of persons who have been showing interest more in terms of being able to be part of our collaboration to own their own homes in a fast-track way," the Minister stated.
Croal further noted that Government will continue to fast-track homeownership for Guyanese through such collaborations with more lending institutions.
Meanwhile, Republic Bank's General Manager – Credit, Venus Frith, said Saturday's MoU signing is reflective of the bank's commitment to the development of not just Guyana but its communities.
"It is meant to strengthen our existing relationships, all of which we cherish and appreciate, and to be a demonstration of our willingness to embrace new relationships all across the Cooperative Republic of Guyana."
"Overall, today's signing signals our continued ambition towards making a meaningful contribution in the lives of the many individuals who are seeking that dream of homeownership," the RBL official stated.
The MoU was signed by Frith and Chief Executive Officer (CEO) of CH&PA, Sherwayne Greaves. Also witnessing the signing was Minister within the Ministry of Housing and Water Susan Rodrigues.
Only Friday during the opening ceremony of the International Building Expo, President Dr Irfaan Ali announced several new benefits for home builders including lowered interest rates for bank loans and free construction materials. These will take effect from Monday after the expo ends today.
In consultation, commercial banks have agreed that there will be no percentage requirement for loans under $6 million once persons qualify under the joint window system. Banks have also agreed that the interest rates will be reduced for housing loans under $9 million to now 3.8 per cent.
Additionally, for homes $6 million and lower, Government will support homeownership to give every builder the steel and one sling of cement. Secondly, for every other category over $6 million until $25 million, two slings of cement will be provided.
Since assuming office, Government has lifted the low-income mortgage ceiling from $8 million to $15 million. The NBS ceiling has been lifted from $12 million to $15 million. Value Added Tax has also been removed on construction items.
Non-performing loans improved from 11 per cent to 6.5 per cent. Loans to household improved to 13 per cent of total loans. Total loans grew by 20 per cent in less than two years, to $310 billion.
Mortgages grew by $16 billion or $21 per cent. Total lending to the construction sector was $15.6 billion as of May 2022 – a 50 per cent growth.