– 5th vehicle for year to burst into flames
A pickup belonging to the Central Housing and Planning Authority (CH&PA) on Tuesday afternoon burst into flames on the Rupert Craig Highway in the vicinity of the Rubis Gas Station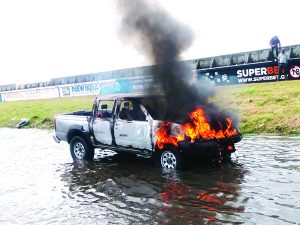 The driver, Wilbert Mingo, who is said to be in his late 30s, was accompanied by his colleague, Daniel Persaud, in the Nissan pickup which bore registration plate PNN 7686. They were heading to East Coast Demerara when the incident occurred.
Guyana Times understands that Mingo observed smoke billowing from his air conditioning vents and thought something was amiss. Before he could have brought the vehicle to a halt to make checks, the vehicle burst in flames.
He and Persaud rushed from the vehicle on to the flooded roadway to safety and escaped unhurt, but the vehicle was completely destroyed.
Fire fighters at the scene told Guyana Times that it was too early to determine the cause of the fire. The driver, who was still shaken up as a result of the incident, was unable to speak with the media.
An investigation is ongoing.
The Government vehicle is the fifth for the year to be mysteriously destroyed by fire. While some persons have blamed a specific fuel, others say the reason for the fires may be linked to uncertified vehicular upgrades and poor maintenance.
On February 13, a father and his child barely managed to escape unhurt at Oronoque and Charlotte Streets, Bourda, Georgetown, after their Toyota Allion car which bore registration number HC 8512 caught fire.
Fire Prevention Officer Andrew Holder told Guyana Times that the owner's daughter complained of smelling a burning scent. The owner later observed smoke coming from under his bonnet and upon checks, discovered that the engine of the car was engulfed in flames.
On February 7, a minibus in Berbice, Region Six (East Berbice-Corentyne), mysteriously caught fire. Prior to that, two vehicles in Georgetown also faced the same fate in separate incidents.
This newspaper contacted several experienced mechanics for an opinion on the recent incidents and was told that it is not normal for vehicles to burst into flames, even if servicing is not done on time. One mechanic who works for a major mining company pointed to the possibility of contaminated fuel being the source of the issue.
However, the Fire Prevention Officer in a previous interview told this publication that the Guyana Fire Service (GFS) has not ventured into investigating the fuel being used by the vehicles since preliminary investigations point to poor maintenance of the vehicles.
However, he noted that this option has not been ruled out, but expressed willingness to explore this area if other vehicles combust under similar circumstances.
Moreover, he admitted that the fire department is incapable of running tests to verify the quality of fuel being used by the vehicle owners.
"The Fire Service in itself, we are not equipped to test the fuel to see if it is something about the fuel causing these fires, but rest assured that if this continues to happen, definitely, we will have to examine that possibility," Holder noted.