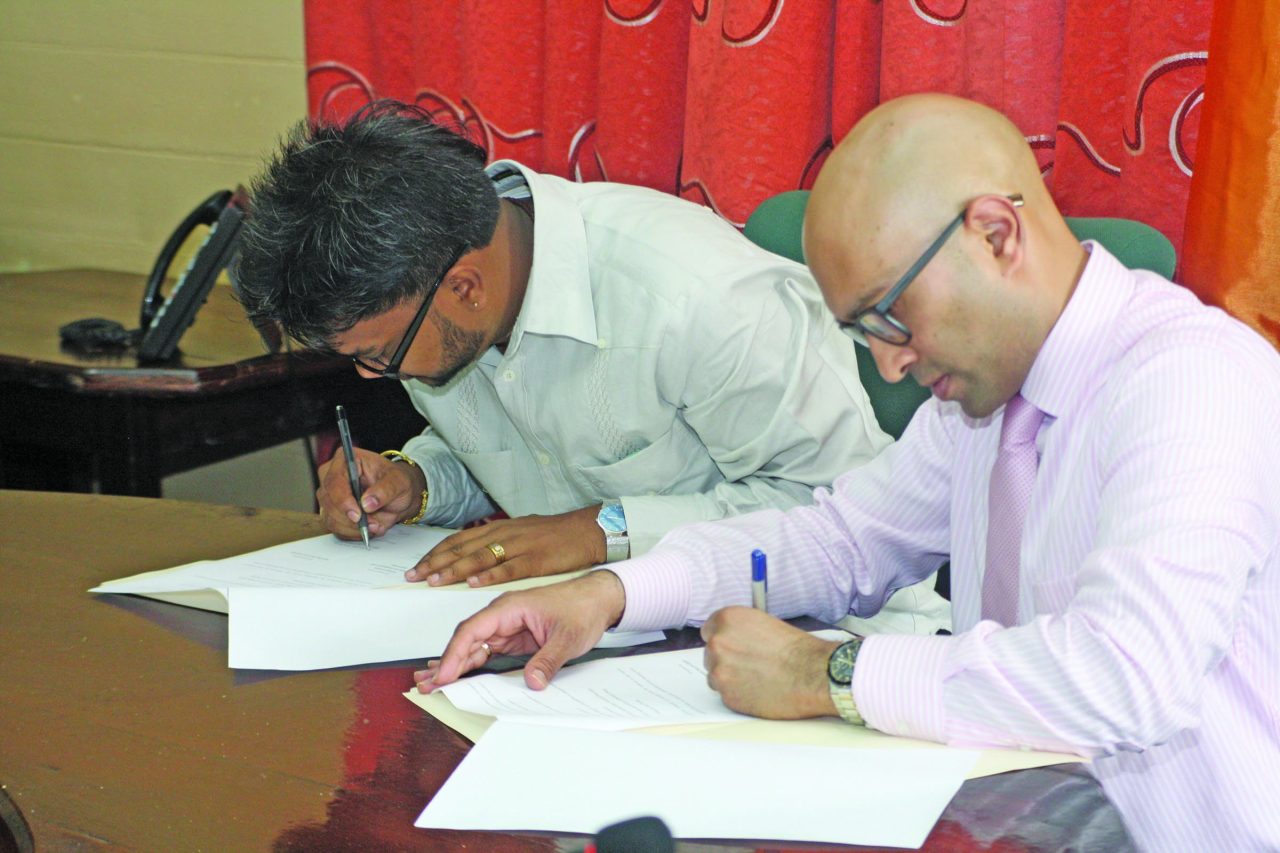 Mayor of Georgetown, Ubraj Narine and the President of the Georgetown Chamber of Commerce and Industry (GCCI), Nicholas Boyer, signed a Memorandum of Understanding (MoU) which will see the two agencies working to improve the state of the capital city.
The areas under which the two agencies will collaborate include general rates, public security within the city, building codes for construction procedures, infrastructure development, environmental issues such as garbage collection, public education and awareness and training and capacity-building.
Although the two had an argument through the media with regard to businesses owing taxes to the Council in April, the Mayor was keen to note that the agreement did not stem from that issue.
In fact, Mayor Narine told the media that the MoU between the M&CC and GCCI had been in the making since past President Deodat Indaar.
"Today in City Hall in this Chamber [we are] creating history and this is the way I think Georgetown is going to move forward. Not to benefit us here but to benefit the residents and the businesses in the city…I look forward to not only signing this piece of paper here this morning but more engagement, more meetings with the President and myself at administration level so that we can develop this city the way we want it to be," His Worship the Mayor stated.
Meanwhile, Boyer, while responding to a question posted by Guyana Times said the Chamber will ensure that businesses comply in these areas as plans are afoot to have various persons appointed to the different areas to ensure compliance.
"Under each thematic area, we are probably going to have different representatives who are certain ideas…for my side, I'm gonna say okay I'm assigning one person to this particular part of the MoU. That person's responsibility now is to understand problems both from our side problems from the Mayor and City Council's side. So let's say that they say there's a problem where businesses are just dumping the garbage then it is first our responsibility to educate and then follow up to see if education is reducing the problem. If education and maybe outreaches is not reducing the problem then you have to take legal steps," he assured.
Last month it was revealed that some 144 city businesses owe billions of dollars in taxes to the Council.
The Mayor was asked to name those businesses but said he required permission from the other councillors.
On Friday he said that he will not be involved with name and shame if those businesses comply and was, in fact, happy to report that a number of businesses have come forward to pay their dues while others are in the process of setting up payment plans.