By now, Guyana's National Rugby 7s team commonly known as the 'Green Machine', would have arrived in Turks and Caicos today, for their first international competition since the COVID-19 Pandemic hit last year. The Rugby Americas North (RAN) 7s Championships will run from October 16 to 17 and Head Coach of the local squad is pretty confident about their chances.
A 12-man Rugby 7s team from Guyana along with their Coach and Staff have headed out to the 9- team competition which promises to be scintillating with quality competitors like Jamaica and Mexico lined up for the coming weekend.
Based on the format of the competition and the Group Guyana is in, which includes Belize and Bermuda, 'Green Machine' Head Coach Theodore Henry is firm in his belief that Guyana can do well, and maybe even win the tournament.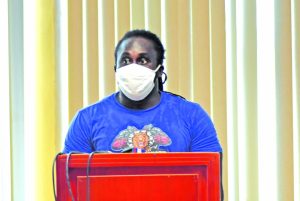 "Well, for me personally I've always been of the mindset that going into this tournament, the least that we are accepting as a win for us, is finishing in the top four. That's the least, but given the situation and how we're seeded in the pool, it's highly likely that we could make the finals of this tournament," Henry said.
He continued, "And as you know, once you get into the final of a 7-a-side tournament, much like T20 cricket, it's anybody's game."
As far as preparation went, henry was content with their training but believes that the team would have benefitted from some warm up games.
Coach Henry revealed, "This team has been thoroughly prepared in terms of fitness, but match fitness is a totally different scenario all together. Like I mentioned before, had we had the opportunity to play some better opposition, I would have been more comfortable in terms of match fitness."
When quizzed about his ingredients for success, Henry highlighted hard work and experience, sharing hopes that his experience in the sport will lead the Green Machine to the Cup.
"The ingredient that we had, was basically hard work, as well as experience. The fact that we've been doing it for a very long time, prior to winning our first championships in 2016, we've experienced a lot of heartbreak, we've lost a lot of tournaments. This team has not experienced it as yet, so they're basically going to be getting their feet wet in this tournament," Coach henry commented.
He went on to add, "I'm hopeful, at the fact that, I've been there, experienced it, have a lot of knowledge and teaching is going to rub off on them and we don't have to start from ground zero."
With the team being a mixture of youth and experience, the Head Coach is looking for the key players to 'show up' when needed.
"Like we mentioned before, we have quite a lot of new players added to this team. So, it depends on the mindset that they enter this tournament with. If they're going to go there and bring out that 'big game' mentality or they're going to fold under the pressure. And we're that they bring out the big game mentality, as we know Guyana is capable of doing," Henry stated.
The Green Machine consists of captain Jamal Angus, Godfrey Broomes, Osei McKenzie, Rondel McArthur, Fabian Joseph, Lancelot Adonis, Peabo Hamilton, Avery Corbin, Oneil Charles, Jonathan Garnett, Lionel Holder and Tyrese Prescod.
Guyana will play their first game against Belize on Saturday. The other teams in the competition are Jamaica, British Virgin Islands, Turks and Caicos (Pool A), Mexico, Barbados and Curaçao (Pool B).