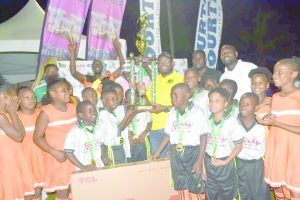 Last Saturday, November 19, scores of supporters erupted in celebration as the underdogs, Enterprise Primary, clinched the Courts' Pee-Wee U11 football title.
Having been locked in a tense battle with St. Pius Primary School at the Ministry of Education (MoE) Ground on Carifesta Avenue, Enterprise Primary held their nerve to earn themselves a 2-1 victory.
St. Pius were the first to strike, Carlon Robinson finding the back of the net in the 13th. However, Jashan Haynes of Enterprise, eventual MVP and highest goal scorer of the tournament, netted a double in the 15th and 30th minutes for the Enterprise victory.
That victory, according to Coach Troy Wright, was something he had promised the school's Head Mistress he would deliver before the tournament even began.
"Since I stepped in the office at Enterprise and I reach the Headmistress, I told her my mission is to come to this school and lift the football standard; and when the football standard lift, the education standard is going to lift," Wright said, as he explained that his son is a student of that school, hence his motivation to coach the team.
"So, I said it's a challenge for me, but I'm here to take the school to the other level. Once they listen to me and follow my instructions, they will be the next champions. The Headmistress's words were, 'Deliver for me'. Well, the HM of Enterprise, I have delivered for you," an elated Wright added.
Wright has emphasised that his singular goal in winning the final game was to secure resources that would assist the school academically.
"I teach them; in practice we sit and talk a lot. I said, 'Whenever a goal is scored against you, it's a mistake. We are all human, ya'll are children, you're not playing without mistakes'. So, I said, 'If they score a goal, never panic. We can come from behind and do it. Don't panic! Don't panic!" Coach Wright related.
With two Pee-Wee titles now under his belt, Coach Wright has detailed that his plan for the future would see development of younger players.
"I have coached for many years, but this is the hardest part of coaching for any coach. Pee-Wee football is the hardest to any coach, because it's like babies you're taking to play football; it's not easy," he explained.
Then he divulged, "I'm planning to open my academy next year, where I can take school children from primary, secondary, and even private schools; where they could come Saturday and Sunday, register, have sessions and develop their skills. So, when the next school football tournament is around, we would have proper players who fully know about the game, so you'll see competitive football.
"That is my aim," he said. "To open an academy to develop football from the school, and we'll see better competition in school football," Coach Wright has asserted.
The Pee-Wee tournament was supported by Courts, Sterling Products, MVP Sports and the Ministry of Education.