– 1 remanded, other granted bail
A Berbice rice farmer was on Monday remanded to prison for allegedly being in possession of a firearm and ammunition while another who was jointly charged was granted bail in the sum of $200,000.
Raymond La Fleur, 46, of West Canje, Region Six (East Berbice/Corentyne) and Roshan Alie, 42, a farmer of Johanna North Black Bush Polder, Corentyne appeared at Whim Magistrate Court before Magistrate Renita Singh and jointly charged with possession of firearm without license.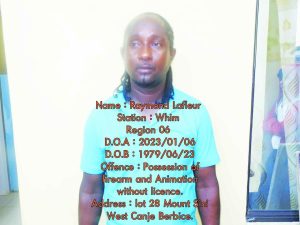 They both plead not guilty. La Fleur was remanded to prison and Alie was released on $100,000 bail for each charge.
Additionally, Alie was charged with threatening behavior committed on Ajai Raghunauth which occurred on January 6, at Cookrite Savannah, Johanna Black Bush Polder. For this, he pleaded not guilty and was placed on a further $30,000 bail.
All of the cases have been transferred to Mibicuri Magistrate Court and will come up on January 31.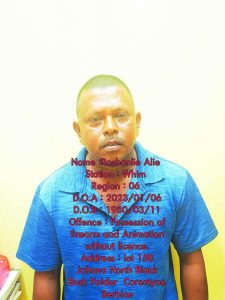 Lafleur has been before the court previously on a series of matters including robbery, possession of arms and ammunition and throwing marijuana over the prison fence.