Danion Welcome, the driver of the truck in the horrific accident at Agricola Public Road, Greater Georgetown, that claimed the life of seven-year-old Ciara Benjamin back in June, will face the charge of death by dangerous driving.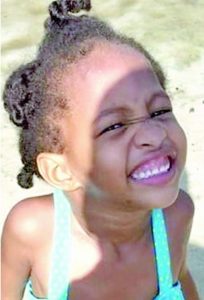 Guyana Times was informed that after a long investigation, the Director of Public Prosecutions (DPP), Shalimar Ali-Hack would have recommended for charges to be instated.
As such, Welcome will make his court appearance in the new week.
During that unfaithful Saturday afternoon, chaos broke loose at Agricola on the East Bank of Demerara (EBD) when Benjamin was crushed to death by a truck, driven by Welcome.
Based on reports received, the child was attempting to cross the road with her aunt, Samantha Barry, at about 16:45h in the vicinity of the Independence Arch at Agricola.
During that time, a truck bearing registration number GWW 962 was heading to Georgetown when he allegedly swerved to avoid hitting a vehicle and ended up in the path of the pedestrians.
Upon impact, the woman was flung some distance away while the truck remained fixed on the median with the child pinned underneath. A light pole was unearthed from the impact and collapsed on the roadway.
Hundreds of people flocked the roadway and streets to witness the aftermath of the tragic incident. With the truck lodged in the middle of the roadway, Police officers made efforts to clear the streets to allow for the body to be removed.
About one hour later, a forklift and crane were used to lift the vehicle and remove the child's remains. Her body was completely severed in two.
Welcome was, however, severely beaten by residents and then handed over to the Police.
After the scene was cleared, another unexpected tragedy arose when the lorry was set alight, creating a towering inferno in the middle of the roadway.
Laden with fuel, it burned for hours, blockading the flow of traffic.
Pedestrians stood in disbelief as small explosions erupted from the fire. The Guyana Fire Service arrived sometime after and contained the blaze from spreading to nearby buildings.