…says technical capability available to process housing documents faster
Following the two-day outreach in Region Six (East Berbice-Corentyne), President Dr Irfaan Ali has stated that the biggest takeaway from the exercise is that there is technical capacity and capability within Government agencies to process transactions and address issues in a timely manner.
Over the past two days, the Housing and Water Ministry through the Central Housing and Planning Authority (CH&PA) facilitated on-the-spot house lot allocations for existing applicants as well as pre-qualifying persons interested in low-income housing units in the region.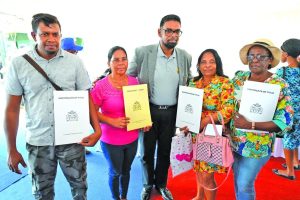 By the end of the exercise on Friday, close to 200 Berbice families received their Certificates of Title/Transport. Additionally, CH&PA allocated 50 house lots and 50 homes, while five core home applications were received.
Hundreds of persons were also able to initiate their house lot applications and register for the Steel and Cement Housing Subsidy Programme.
Moreover, the CH&PA was able to fast-track the regularisation of a squatting settlement at John's, Corentyne within 24 hours as well. This resulted in some 23 Titles being processed and a number of families were presented with the ownership document by President Ali on Friday.
"I'm disappointed in… the fact that we have persons waiting for their Titles and Transport that could have been dealt with sometime ago because what we did in 48 hours, we could have done before… You just have to have a concentrated effort and the problems would be fixed."
"So, I think as young technicians and experienced technicians, they would tell you that they have seen in their own team, the wonderful demonstration of ability of fix problems and get it done quickly. We've also demonstrated how bureaucracy can be easily compressed – not eradicated but compressed – to deliver the type of results that we want to deliver," the Head of State said during a press conference on Friday to wrap up the two-day Cabinet outreach.
The President lauded the engineering side for getting the infrastructure going and delivering what they have done in the past year. But he noted that on the administrative side, there are challenges not only within the system but also with the public.
"…a lot of the allottees were offered house lots and they refused the areas they were offered. Unfortunately, we cannot give you lots in all the areas you would like… And that is a challenge for Housing and it came through the last two days," he stated.
According to the Guyanese leader, Government is considering moving away from house lot distribution and constructing homes instead. This, he explained, not only offers greater value and encourages high occupancy rates but will also ensure a more transparent system.
Elaborate schemes
He noted that one of the issues plaguing the construction sector is persons selling house lots.
"Many times, the Ministry of Housing has to deal with elaborate schemes where people are selling house lots and all of these things… So, in the future and planning ahead, I think more emphasis must and will be placed on the actual construction of the homes," he stated.
These acts, according to President Ali, are mostly prevalent in Region Four (Demerara-Mahaica) especially along the Linden-Soesdyke Highway.
"We have seen in Region Four, real estate agents and agencies as part of the problem. Even in [the Guyana Lands and Surveys Commission] they would tell you we have this great difficulty and it's becoming a major issue for us on the Linden-Soesdyke Highway because of the now greater net realisable value of the lands on the highway. There is a massive attempt to sell leased lands and convert leased lands," he stated.
Recognising that the dynamics in the home ownership culture in Guyana is changing with more young people now moving to acquire their own assets, the Head of State pointed out that this tremendous aggression and expansion in the Housing Sector in Region Six requires a greater level of human resource capability.
As such, he noted that in modernising the country's public sector, focus is being placed on the efficiency of governance, the reliability of governance, reducing bureaucracy and improving the way business is done.
"In Government, sometimes we just look at service but it is the way we do business [in the public sector] because our delay is costing people. When we delay, it costs businesses, it costs ourselves time and inconvenience. So, one of things we need to do is have more monitoring. We need to have a more collaborative effort – an interagency coordinating mechanism. And one of things this exercise did, it brought professionals from different agencies together. So, they were able to build a network and reach other… working in the same environment [over the past two days]… and this will help a lot too moving forward," he said.