Georgetown Mayor Ubraj Narine was on Wednesday presented with a concise document, created by the European Union, in relation to the restoration of City Hall's deplorable structure and ways in which the space can be utilised to garner independent revenues.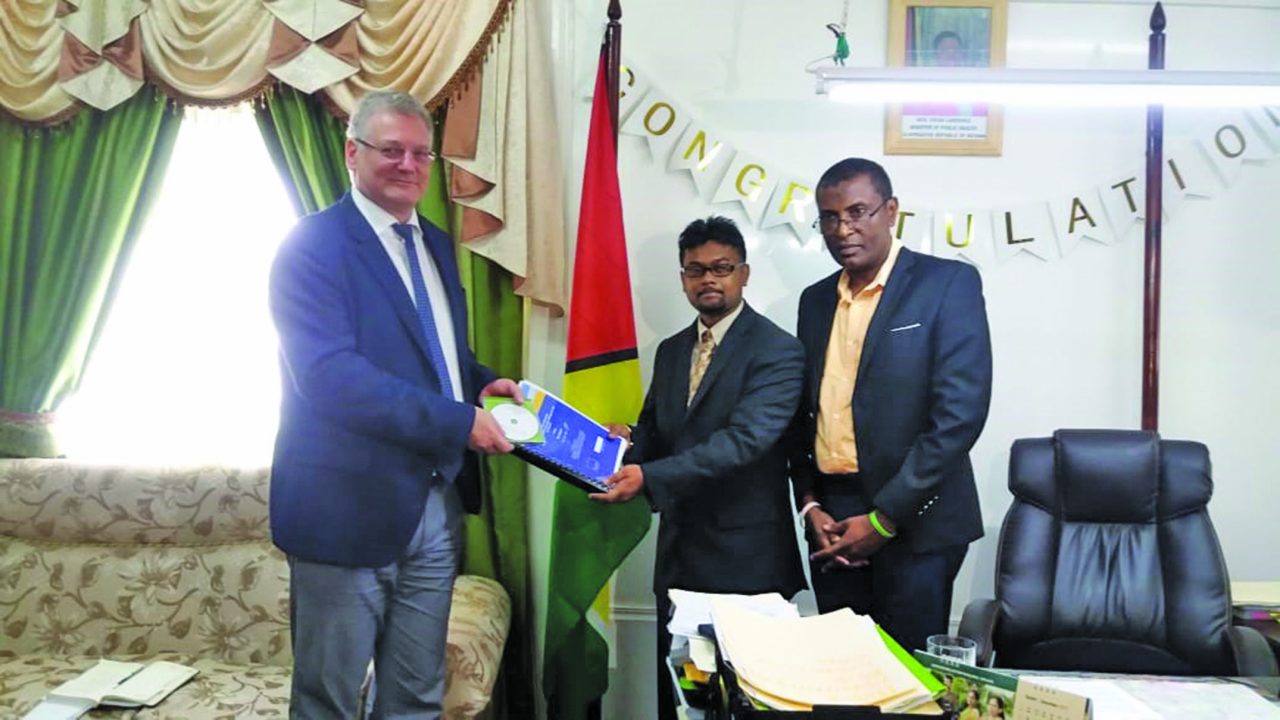 EU Ambassador to Guyana, Jernej Videtič made the presentation to the Mayor alongside Deputy Mayor Alfred Mentor.
Speaking with media operatives after discussions between the two parties, Videtič explained that some £280,000 was expended to craft the document, bringing new ideas to the restoration project. He noted that some plans include using the historic building as a tourism spot, where it can be booked for special events to earn money.
"We have handed over plans for the restoration of the City Hall. This cost the European Union £280,000 to produce. We were speaking on how to realise this plan and restore the City Hall to be used for tourism and how to use the City Hall for future generations for weddings, concerts, receptions so that [it] can generate its own [revenue] and be sustainable. And other ways to fund this restoration because it's not cheap. On the long term, the money that we invest will come back through this business model," the Ambassador revealed.
Adding to these talks, implications of the impending oil sector was also discussed along with strategies to lure potential investors. Urban planning was mentioned as a key factor in this transition.
"We spoke about Georgetown and its future and where we could assist the city especially in the view of the future oil revenues and investments coming into Georgetown by foreign investors and European investors. We agreed that the city needs to plan better, especially the urban planning so that future investors would know where they could invest and build and how to make Georgetown a financial hub," Videtič explained.
Narine, for his part, labelled the meeting as a fruitful one, highlighting that the Council was working to execute these projects.
The Georgetown Mayor and City Council (M&CC) has pegged the overhaul of the City Hall building at over $400 million, and noted that stakeholders would strive to attain funding for the rehabilitation works.
Last May saw the hosting of a two-day workshop at Duke Lodge to facilitate a study for a Comprehensive Restoration and Sustainable Conservation Management Plan for the 19th Century structure.
The project is an EU-funded initiative that was formed out of collaboration with the M&CC and the National Trust of Guyana. The assessment plan falls under a contract, which has special focus on the physical and structural state of City Hall and the City Engineer's Building.
The building has suffered much neglect over the years even though millions of dollars have been allocated to facilitate repairs, including some $20 million in 2012.