Ahead of the GT Motorsports Grand Prix this weekend, oil and gas giants ExxonMobil have put some fuel into the tanks of members of the Pure Racing Team as they prepare to take to the track.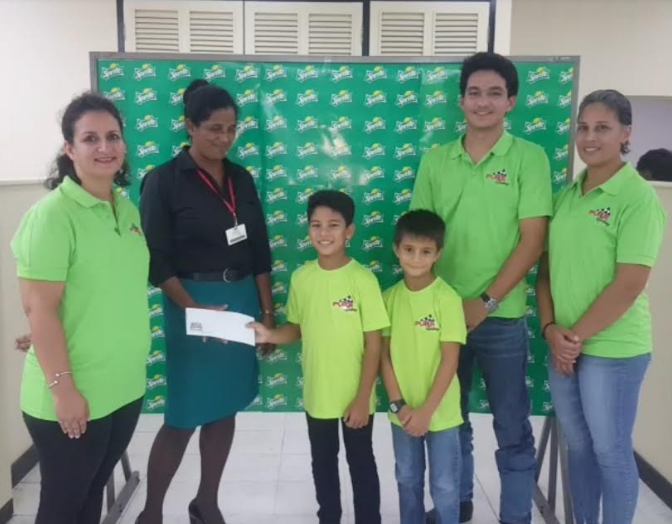 With the go-karting 2019 season opener just two days away, the Pure Racing Team is getting into gear to ensure that it walks away with top honours come this weekend. Part of its preparations, however, is to ensure it is adequately sponsored, and that is where ExxonMobil comes in.
Speaking at a simple ceremony at the company's New Market Street office on Thursday afternoon, Community Relations and Communications Manager Nicholas Yearwood, while pledging the company's commitment to sport in Guyana, encouraged the go-karters to have fun and bring home gold medals.
"Last year was a lot of fun, a lot of wins and a lot of excitement," Yearwood declared. "We're committed to the development of sport locally, and we want to continue working with activities that develop youth and discipline. We just want to wish them the best in the upcoming race meet. We want them to have fun and be safe," Yearwood stated.
The Pure Racing Team features young Ben Phang in the Baby Cup; Sunburst 60cc Kids Cup participant Justin Ten-Pow; Jeremy Ten-Pow and Paige Mendonca in the 125cc x30 Juniors; and Jhon Phang in the 125cc X30 Seniors categories.
On the receiving end of ExxonMobil's generosity was Annalisa Phang, who was filled with gratitude towards the entity, and hinted at improved performances from the team's drivers come Saturday.
"Thank you, Exxon! Thank you, Nick, for again sponsoring our young drivers. I know they're appreciative of your support and Exxon's support. Their skill certainly surpassed our expectations, it has resulted in the good results we got at the end of the year, and we're very thankful for your continued support," Phang stated.
Sprite greases the wheels
In addition to ExxonMobil's fuel, Banks DIH, under their Sprite brand, have also lent a hand to ensure that the Pure Racing Team is ready for the track on Saturday. The beverage company on Wednesday handed over sponsorship to several members of the karting team ahead of Saturday's races.
On Banks' behalf, Non-Alcholic Brand Manager Jennifer Khan disclosed that Banks are in the process of fulfilling a new vision for the company.
"It's an area where it's new for us, so this is just testing the waters and see what happens. It falls under the Coca-Cola umbrella, and this is our first venture into this. We hope it bears fruit," Khan said.
Once again doing the speaking on Pure Racing's behalf, Annalisa Phang promised to make the company proud of the investment.
"Pure Racing is delighted to have Banks DIH and Sprite on board finally. We've been working very hard to get them on board with us, and we will certainly make you proud," Phang said.
The Grand Prix will drive off on Saturday, May 11, at the GT Motorsports Complex in Thomas Lands, and is expected to feature divers from Trinidad and Tobago and Jamaica. This weekend's GT Motorsports Georgetown Grand Prix is expected to include drivers from Trinidad and Tobago as well as Jamaica.
Jamaica's Collin Daley will take to the track in the 125cc X30 senior class, while his countryman Tommi Gore is expected in the 125cc X30 junior class. Kristian Boodoosingh and Zachary Boodram of Trinidad and Tobago are expected to drive in the 125cc X30 senior class, along with Jamaica's Daley.