COVID-19 death
By Shemar Alleyne
Some of the hardest goodbyes are the ones that were never said or never heard. This was the case of 76-year-old May Portsmouth, who has been recorded as Guyana's latest COVID-19 death.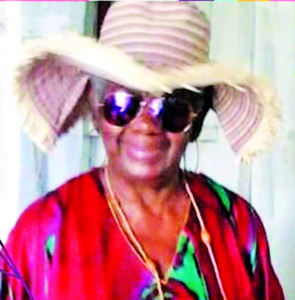 Family members of the late Portsmouth are still trying to come to grips with the passing of the woman. On July 3, the elderly woman went to a private hospital for her usual medical checkup. There, she underwent a series of tests where it was revealed that she was in good health.
However, on July 4, she was rushed to the Georgetown Public Hospital Corporation (GPHC) after she fell down from her stairs and suffered a mild heart attack. Doctors ran some tests on the woman and stated that everything was fine with her and that they are only seeing some scratches on her lungs, which didn't seem to be as a result of her current illness. Nevertheless, she was treated and sent home.
After returning home, she experienced a seizure and was taken back to the public hospital the following day.
"I told my sister (Lester), I am tired and to take her back Sunday morning, and my sister took her back, and they said they want the tests from the private hospital. She went and get the test and bring it back to them," the dead's woman son, Lester Portsmouth, said.
He added that doctors "said that they see that she has a slight heart attack and they said that they have something else they can do for her, but she has to pay $80,000, but if she can't pay all one time, she can pay it on terms," he explained to this publication.
The aggravated son stated that health officials informed the family that the injection would help her, and as such, the family went ahead and paid the money for the injection. However, he is claiming that doctors never told them what the injection was and what it was being used to treat.
"My sister consulted with my other sister overseas, and she said if it is going to get her better, let them give her the injection. They gave her the injection, and my sister went outside for 45 minutes, and somebody come outside and [told] her to come inside back and told her that her mother just died," he asserted.
Disputing COVID-19 diagnosis
Lester, in tears, stated that it was hard for the family. In fact, the young man stated that as the family gathered at their home trying to come to grips with reality, close friends and family started to message him saying that their mother died from the coronavirus.
"How she dead from coronavirus and she was perfectly [fine] when she go in there, and they gave her the injection, and when my sister go in there, they said she dead. How come she dead from coronavirus?" Lester lamented.
Due to this, the aggravated son stated that there might be a hospital cover-up in his mother's death. His suspicion is compounded by the fact that the Public Health Ministry has not asked them to go into quarantine nor tested relatives for the virus.
"I think it is a cover-up because if somebody died from COVID-19, would you notify the family when the results [did] come out, and you have the family number so that they can stop the spread. I don't understand that, and I find it very hard to believe that."
He added, "She fell down from the step, and she had her complications when she [fell], and they gave her something wrong and killed her and now saying it's COVID."
On the same day Portsmouth died, 25-year-old Donna Greaves was air-dashed from Lethem in Region Nine (Upper Takutu-Upper Essequibo) to the GPHC to treat a blood disorder, but health authorities said the woman died from the deadly disease.
Her family is also demanding a full probe since they believe the woman might have contracted the virus at GPHC.
While Donna's death was made public on Sunday, Portsmouth's was revealed by the Director of Public Information (DPI), Imran Khan.